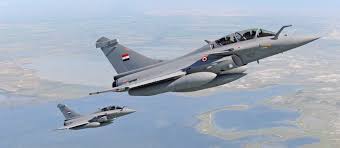 Sourced: Egypt Daily News
Negotiations for the sale of additional Rafale between France and Egypt are hampered by the United States. Washington refuses to export an American component aboard the Scalp cruise missile that Cairo wants to acquire.
Negotiations between Paris and Cairo are seriously stuck in for the sale of additional Rafale (12 fighter jets) to the Egyptian Air Force, according to concordant sources. And this is not a funding issue as in the past. According to these sources, France is currently unable to deliver the Scalp cruise missiles manufactured by MBDA to Egyptians because of an American component. Contacted by La Tribune, Dassault Aviation and MBDA declined to comment.
Image Sourced: Dassault Aviation
Read more at: https://www.egyptdailynews.com/detail/the-united-states-blocks-additional-rafale-sales-to-egypt