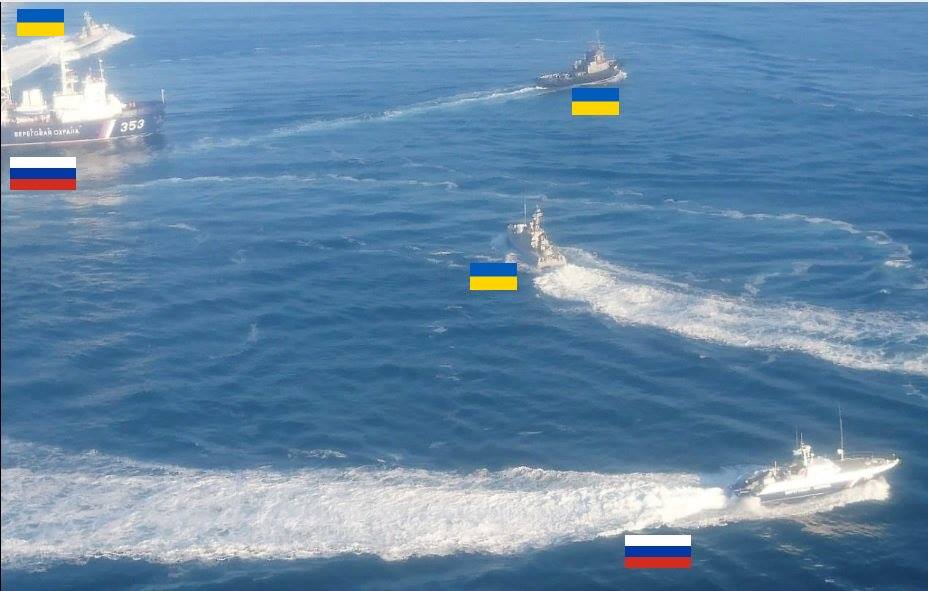 Source: EMPR
The key dates and facts of Russian aggression in the Azov-Kerch theater of operation in 2018.
April 27 – The border guard service of the FSB of Russia begins a series of selective stops and inspections of merchant ships in the Sea of Azov, going to and from Ukrainian ports. The daily freight of a merchant ship is up to 7,000 USD, a dry cargo ship – up to 15,000 USD. Ship-owners incur losses and begin redirecting their vessels to other ports.
April 30 – Two Bumblebee armored boats, one Grif boat, roadstead diving boat RVK-933 and estuary tug RB-410 from the Caspian military flotilla are redeployed along the river routes. They also redeploy several Serna air-cushioned landing craft, intended for disembarking of tracked, wheeled and other military equipment of up to 45 tons, and advanced airborne subunits with weapons to the unimproved port facilities. A special marine brigade of the Rosgvardia is formed, equipped with counter-terror Grachonok boats. The depths of the Azov Sea allow for 7 major landing craft of the 97th Brigade of the Russian Black Sea Fleet, 30 small fleet ballistic missile ships and boats, anti-submarine ships and minesweepers of the Black Sea Fleet.
Read more at: https://empr.media/opinion/analytics/how-russia-occupied-sea-of-azov-full-chronology/