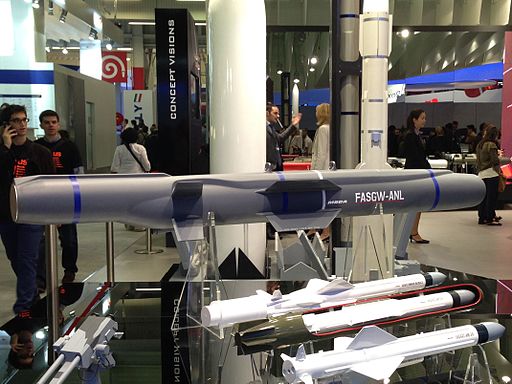 Defence Secretary Michael Fallon unveiled last Tuesday a new agreement with France that will help pave the way for the next generations of missiles.
As Jean-Yves Le Drian, French Minister for Defence, visits London to reaffirm Anglo-French relations, this agreement allows for the sharing of certain technologies to aid the development of future generations of missiles developed by missile contractor MBDA.
This includes the helicopter-launched anti-ship weapon, termed Sea Venom ((formerly Future Anti-Surface Guided Weapon (Heavy)-Anti-Navire Léger (ANL)), and other future national and joint programmes to meet British and French military requirements over the next decade and beyond.
This new Intergovernmental Agreement builds on increasing collaboration in this area since 2010. It will allow closer working and information sharing on MBDA's missile technologies while providing the necessary legal assurance to both governments on issues such as the protection of national data and security of supply.
Defence Secretary Michael Fallon said:
"Our defence relationship with France continues to thrive. The joint development of next generation missiles is just the latest example of this.
"Sharing knowledge and information more deeply will help us develop better weapons more efficiently and keep both of our countries safe."
It follows work carried out by both countries with MBDA to create Centres of Excellence, consolidating their specialist design and engineering skills. Four of these centres are being established at first, for Weapon Controllers and Test Equipment in France, and for Datalinks and Actuators in the UK; another four, on complex warheads: guidance and navigation systems; algorithms; and software will follow.
Signed in 2010, the Lancaster House agreement was brought into existence to solidify the relationship between the two allies and provide greater defence cooperation.
During a ceremony at Lancaster House to mark the milestone of the Lancaster House Agreement, French Defence Minister Monsieur le Drian presented medals to four British military personnel.
Flight Lieutenant Andrew Barber has received the Croix de le Valeur Militaire, which is equivalent to the UK's Mention in Despatches. Meanwhile, Wing Commander Stephen Tomkins, Lieutenant Commander Ian Sloan and Major Anthony Coe will receive the recognition of Medaille de la Defense Nationale gold, silver and bronze respectively for their service to the French Armed Forces.
Secretary of State for Defence Michael Fallon added:
"I am proud that members of the UK Armed Forces have been recognised for their work with one of our closest allies.
"These exchange programmes support our relationship with France, allowing our Armed Forces to learn from each other and work together to keep our countries safe."
Further to this, both Defence Ministers re-affirmed the close relationship between the UK and France – highlighted by the fact that both British and French exchange officers have deployed as an integral part of each other's operational units in combat operations.
The Defence Ministers also reviewed:
— The importance of the major exercise Griffin Strike in April 2016, involving a large number of French and British personnel and the considerable programme of mutual development undertaken by our Armed Forces over the last five years;
— The work undertaken by both countries to ensure the safety and reliability of our nuclear weapons and the completion of the British facilities at Valduc in Burgundy in 2016 will demonstrate the success of our cooperation in this area;
— Consideration of further areas of cooperation – potentially including counter-terrorism, Special Forces, and cyber security – and deeper policy coordination in pursuit of our common goals.
Image Sourced: Wikipedia