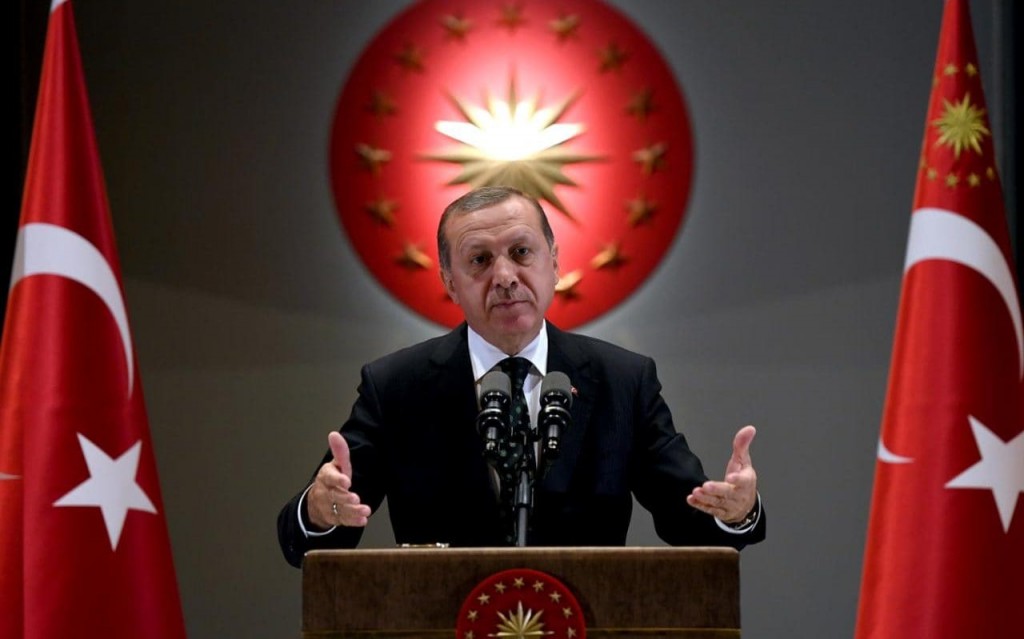 Sourced : The Independent
Βy Samuel Osborne
Europeans across the world will not be able to walk the streets safely if they keep up their current attitude towards Turkey, President Recep Tayyip Erdogan has warned.
Turkey has been mired in a diplomatic row with Germany and the Netherlands after they banned Turkish officials from campaigning in support of an April referendum on boosting the Turkish President's powers.
"If Europe continues this way, no European in any part of the world can walk safely on the streets," Mr Erdogan told journalists in Ankara.
He added: "We, as Turkey, call on Europe to respect human rights and democracy."
Turkish government officials are still participating in events for expatriate Turks across Europe, but are not campaigning for the referendum, the Turkish deputy prime minister has said.
Numan Kurtulmus said the row had helped Turks in Europe better understand the constitutional changes proposed in the referendum.
He said the "footsteps of neo-Nazism and extreme racism" were being heard in Europe.
Mr Erdogan has previously branded the Netherlands "Nazi remnants" and accused Germany of "fascist actions."
He has said his country may review its ties with Europe after the referendum, which he hopes will give him sweeping new powers, and has described Europe as "fascist and cruel," saying it resembles the pre-World War Two era.
European leaders have made repeated calls for Turkish officials to avoid Nazi comparisons and the head of the Central Council of Jews in Germany accused Mr. Erdogan of disrespecting the memory of the victims of the Holocaust.
"The comparisons between today's Federal Republic of Germany and National Socialism, which we have heard in recent days, are not only insulting and absolutely false — they also relativize the Nazis' rule of terror," Josef Schuster said, German newspaper Die Welt reported.
"The comparison is monstrous and denigrates the suffering of the victims of the Shoah."
German Chancellor Angela Merkel said Turkey should stop Nazi comparisons "with no ifs or buts."
The controversy deepened last week when a Turkish pro-government newspaper depicted Ms Merkel as Adolf Hitler on its front page, branding her "Mrs Hitler."
The right-wing tabloid accused the German chancellor of attempting to lead a fascist movement against Turkey.
It came days after Germany's biggest-selling newspaper Bild attacked Mr. Erdogan for threatening the stability of Europe through his "lust for power."
"Bild tells the truth to Erdogan's face — you are not a democrat! You are hurting your country! You are not welcome here!" the German newspaper said.
Turkish hackers also spread Nazi accusations across high profile Twitter accounts, posting pro-Erdogan messages from accounts including Amnesty International, BBC North America and Forbes.
While tensions between Turkey and Europe have boiled over in recent weeks, acrimony over Turkey's belief some European countries are harbouring suspected terrorists has festered for years.
Europe has questioned whether fugitives would get a fair trial in Turkey and said free speech laws and other rights protect many dissidents.
A Turkish official, speaking on condition of anonymity in line with government protocol, told the Associated Press Turkey will ask the Netherlands to extradite a Turkish leftist militant.
Mr. Erdogan criticised Germany for allowing a weekend rally of Kurds, some of whom expressed support for a jailed rebel leader in Turkey.
In January 2017, Turkey condemned a Greek court ruling granting asylum to eight Turkish military servicemen allegedly involved in a failed coup to oust Mr. Erdogan last year.