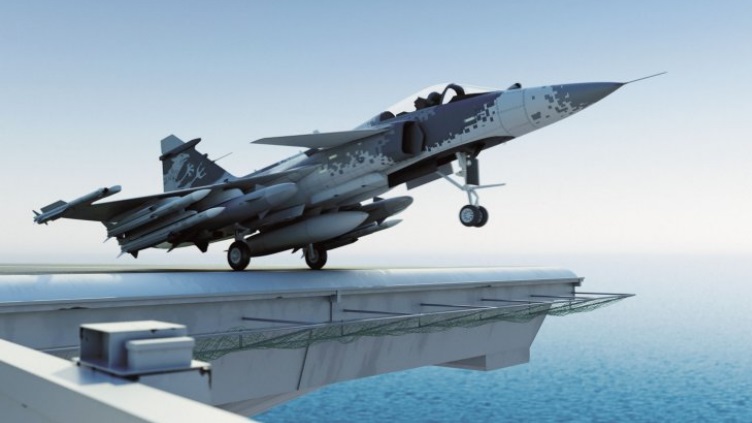 Sourced : Gripen Blog
Saab is in the process of responding to an Indian Navy request for information (RFI) with Gripen Maritime that is it has been developing with UK and Brazilian engineers, reports Jane's.
Speaking at the Gripen Annual Seminar in Stockholm, Jerker Ahlqvist, head of the Gripen programme, said that Saab was confident about the potential of Gripen Maritime and hopefully it would become a full development programme.
The Gripen Maritime, is currently in its concept stage. According to Saab, there will be 95% commonality with Gripen E and F, which means Gripen M will share their exceptional lifetime system affordability. "We are still in the phase of concept studies at the moment, and we are evaluating the market needs. We have used UK engineers with Harrier experience in the past, and now we have Brazilian engineers working on the project," Jerker said.
Another report in DefenseUpdate.in, says that the Indian Navy plans to procure 57 fighters for a net worth of about US $12 billion and the selection of the aircraft would depend on what kind of launch system will be used aboard the new carrier which is currently under construction.
Gripen Maritime will have a strengthened undercarriage, bigger brakes, and a beefed-up tail hook along with advanced data link and extensive electronic warfare self-protection suite that can be configured to meet specific user requirements. Gripen Maritime is intended for both CATOBAR as well as STOBAR operations. "Gripen is designed for narrow roads, and so would be perfect for carrier operations," Ahlqvist said.​