The following text was presented by Dr Kayla Parker to introduce Ben Rivers: Shorts (a LUX programme of short films) at Plymouth Arts Centre Cinema on 11 February 2016, supported by the Moving Image Arts (MIA) research group at Plymouth University.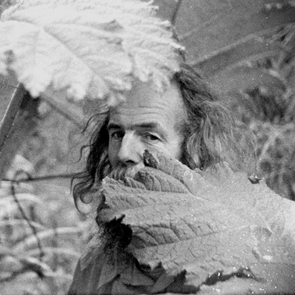 Image: Ben Rivers' This is My Land (2006)
Introduction
Firstly, thanks to Vickie Fear and to Ben Borthwick and Plymouth Arts Centre, for inviting me to introduce this new programme from LUX of five early short films by the British artist, Ben Rivers, which was curated to coincide with the 2012 release of his acclaimed feature film, Two Years At Sea. This evening's programme includes This Is My Land, Rivers' first portrait of Jake Williams, later the subject of Two Years At Sea.
The screening also complements the current exhibition, The First Humans – curated by Angela Kingston and organised by the Pump House Gallery in collaboration with Plymouth Arts Centre. This exhibition includes a film by Ben Rivers, The Creation As We Saw It, which recounts the myths of a village on a South Pacific island, where straw huts exist alongside mobile phones – the stories concern the origin of humans, why pigs walk on all fours, and why a volcano sits where it does. The creation myth recounts how people and fire first came into being, and still plays a vital role within the culture to which it belongs, despite its juxtaposition with modern communication devices.
Ben Rivers has been experimenting with film since he studied at Falmouth School of Art in the 1990s. As a student, he was initially drawn to sculpture, before moving to photography and the home movie format of Super 8. After his graduating, he taught himself to hand-process film and moved to 16mm film-making, using a clockwork Bolex camera.
The five short films in this evening's programme present a series of portraits of unconventional lives – of people existing, to varying degrees, in wilderness or isolation; people on the verge or margins of what most of us would consider 'normal' society. These films draw on our romanticised view of a life lived 'beyond bounds'.
Rivers engages with the subjects of his films, he circles them, almost as if stalking a wild animal. He observes them carefully with his camera – looking at them and studying them often over sustained periods of time. There's integrity in this approach that stems from a respect for his subjects, and compassion.
Themes of alternative lifestyles thread through these films, ways of living in our highly connected world that we might consider 'primitive'. And yet, Rivers' films remind us that, as we've developed from our ancestry in pre-history to become Twenty First Century homo sapiens, we have lost… perhaps, part of our humanity? Have we sacrificed an important element of what makes us human during our accelerated evolution and dependence of digital technologies and globalised culture?
For Rivers, daydreaming has always been an important. He believes that it is vital for us to use our imaginations so that we can create other possible worlds and stories beyond the everyday. This collection of early films prompts us to reflect on our beginnings in the world and to consider the uncertain future that awaits us…
These five short films were all made in Britain:
The Coming Race
2006, 5 minutes b+w / sound
The film is titled after a Victorian novel by E.G.E. Bulwer-Lytton, about a race of people who live under a mountain. A hand processed film in which thousands of people climb a rocky mountain terrain. A mysterious pilgrimage fraught with unknown intentions, their destination and purpose remains unclear – The Coming Race is made the more unsettling by its soundtrack of shifting and tumbling rocks.
This Is My Land
2006, 14 minutes b+w / sound
A cinematic portrait of a self-contained man who lives alone within miles of forest in Aberdeenshire, Jake Williams lives separate from modern living. He always has many jobs on at any one time, rarely throws anything away and has compost heaps going back many years. An accomplished mandolin player, he has a different sense of temporal flow to most people, which is expressed in his instinct to create hedges by putting up bird feeders – the seeds excreted by the visiting birds, growing in time to create natural barriers. Rivers has commented in an interview with William Rose:
"It struck me straight away that there were parallels between our ways of working – I have tried to be as self-reliant as possible and be apart from the idea of industry – Jake's life and garden are much the same – he can sustain himself from what he grows and so needs little from others. To Jake this isn't about nostalgia for some treasured pre-electric past, but more, a very real future."
A World Rattled of Habit
2008, 10 minutes colour / sound
Rivers' film of a day trip to Suffolk, to see his friend Ben and his father Oleg Meschko, who recounts how he dealt with the difficulties of the various countries he has lived in, and has distanced himself from the ideals of 'normal people'….
Origin of the Species
2008, 16 minutes colour / sound
The film began as a portrait of a 75 year old man, known only as 'S', living in an isolated area of Inverness-shire after a life travelling around the world. S has been obsessed with the work of Charles Darwin for most of his life – since childhood, he has found in Darwin many answers to his questions about life on Earth. Rivers' camera explores the mysterious geography of S's world: his garden – from the microcosmic to the large scale, the contraptions and inventions he's constructed, and the patch of land where he built his house. On the soundtrack we hear S talking about his perspective of life on Earth and his reflections on human beings' place in it.
Ah, Liberty
2008, 20 minutes b+w / sound
In the final film of this evening's programme, Rivers observes the improvised play of feral children on a remote farm to create a portrait of a family's place in the wilderness. Ah, Liberty captures fragments of lives through the seasons to convey the freedom of living and playing amongst the old junk and free range animals of a homestead, set within a wild, wooded landscape.
Ben Rivers: Shorts runs for approximately 65 minutes, after which we'll move from the cinema into the bar for refreshments and an informal discussion.
I hope you enjoy the films.
Dr Kayla Parker is a Lecturer in Media Arts at Plymouth University, where she convenes the Moving Image Arts (MIA) research group, and an affiliate member of the Centre for Moving Image Research (CMIR) at UWE Bristol. She also curates and presents programmes of artists' moving image, for screening in the gallery and cinema, and on fixed and mobile urban screens, such as Bodies of Water for the Royal West of England Academy exhibition The Power of the Sea (2014), also screened at the 2015 Cornwall Film Festival.