You are welcome to attend this free guest lecture by PETER KENNARD
Tuesday 19th April 2016, 5-7pm in the Davy Building Main Hall at Plymouth University.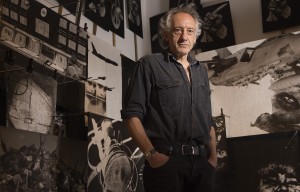 Peter Kennard abandoned painting in the 1970s in search of new forms of expression that could bring art and politics together for a wider audience. This search has resulted in making photomontage and installation work over many years covering major political events. The retrospective exhibition, Peter Kennard: Unofficial War Artist, continues at Imperial War Museum London until 30 May 2016.
Peter Kennard was born in London in 1949. He is senior tutor in photography at the Royal College of Art and his work is in many major collections, including Tate, the V&A and the Imperial War Museum. His work has been published in numerous publications including The Guardian, The Observer, Sunday Times, The Telegraph, The Independent, The Scotsman, New Statesman and Time Magazine.