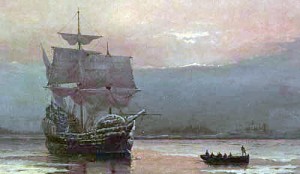 The 2016 Transatlantic Studies Association (TSA) conference will be held at Plymouth University from 4-6 July.
This year sees the association celebrate its 15th anniversary. Plymouth has been chosen to celebrate this anniversary as it was the last contact with England for the Pilgrim Fathers before they set sail across the Atlantic in 1620.
The city of Plymouth will also host the 400 anniversary celebrations of this voyage in 2020.
Established in 2002, the TSA is a broad network of scholars who use the 'transatlantic' as a frame of reference for their work in political, economic, cultural, historical, environmental, literary, international relations and security studies.
As an optional extra, delegates can also attend the conference's dinner which will be held at the National Marine Aquarium.
The conference is being organized by Dr Kathryn Gray, who is Associate Professor (Reader) in Early American Literature at Plymouth University.
Book your place through the Plymouth University estore.