Art Outside the Gallery
AAH New Voices Conference 2016
25 November 2016
Plymouth University
Keynote: Dr Jody Patterson (Plymouth University)
Call for Papers
Where do we see art? What impact do exhibition spaces have on how an artwork is received? Who is art created for? Who owns public art? New Voices 2016 encourages delegates to consider art outside of conventional exhibition spaces and to engage in a discussion over the function of art in the public, digital, domestic, religious, and secular spheres.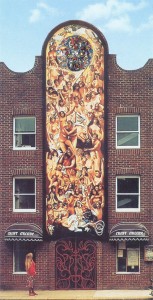 The location for New Voices this year, Plymouth, has had its own recent controversies when it comes to art in public spaces. In November 2014, Robert Lenkiewicz's 20ft mural 'The Last Judgement' was removed for conservation purposes from the front of a quayside shop in Plymouth's Barbican Quarter.
Upon removing the work, conservationists discovered a second mural that had been covered up by 'The Last Judgement' for more than forty years. This was a giant sketch of a copulating couple. The discovery provoked praise and outrage from the public before culminating in the shop's owner drilling holes into the mural in April 2015 to secure a wooden board across the figures' genitalia.
While of local interest, the recent events relating to Lenkiewicz's mural raise wider questions about the function, display, security, ownership, history, and future of art outside the gallery. The worldwide socio-political impact of art exhibited outside the conventional gallery space has encouraged artists and curators to create new and innovative methods of engagement that provide alternative models to that of the traditional gallery setting. New Voices 2016 aims to address the growing significance of 'Art Outside the Gallery' within this discourse.
New Voices welcomes contributions from all periods that address the theme of 'Art Outside the Gallery'. Topics may include but are not limited to:
Explorations into alternative spaces of display and site-specific installations (places of worship, land art, civic spaces, artists' studios)
Public art (sculpture, murals, commissioning process, impact, preservation) ¨ Community-based art projects and their public and global impact
Reflections on artists, artist collectives, and artworks that deliberately challenge or seek to dismantle conventional gallery display processes
Digitally produced/disseminated art (moving image, audio work, digital exhibition making)
The socio-political impact of gallery representation for artists
Historiographic explorations of artistic interventions during times of social unrest (graffiti, art as protest, audience participation)
Public performance art
The impact of museum/gallery display on the classification of objects.
Abstracts of no more than 300 words for 20-minute papers should be submitted along with a 100-word biographical note to artoutsidethegallery@gmail.com by 1 August 2016.
One of the conference organisers (Amy Robson, Rebecca Senior, Sophie Littlewood, or Ana Bilbao) will respond to confirm your submission.
Although the conference is open to all, speakers must be AAH members. To join the AAH, see aah.org.uk. 
Lunch will not be included in the ticket prices (but tea and coffee will be provided). Lunch options will be recommended in the delegates' pack.