Presidential Election Debate: America Decides
8 November 2016, 7-8pm plus time for questions and answers
Lecture Theatre 2, Roland Levinsky Building, Plymouth University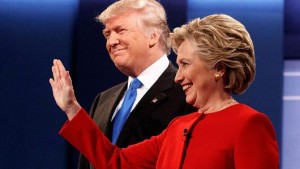 Presidential elections rarely lack controversy but 2016 is proving to be the most interesting contest in generations. Nominees Hillary Clinton (Democrat) and Donald Trump (Republican) attract partisan admiration and derision in almost equal measure and their emergence starkly illustrates the polarisation of American politics.
Clinton, who would become the first female president, is seen by many as untrustworthy, while controversies about Trump's xenophobia, misogyny and inconsistency have stalked his candidacy without diminishing his appeal.
Dr Simon Topping (Associate Professor in United States History), Dr Harry Bennett (Reader in History) and Dr David Brockington (Lecturer in Politics and Social Science Methods) discuss the election and the implications of either a Clinton or a Trump presidency on the very day of the election. They are also writing a blog with their commentary in the run up to the elections.
Ticket information: £6/£4.20. Discounts available via the Artory App and free to Plymouth University students via SPIA.
To book, click here.