Please join us for the next PEP Talk, the seminar series of the Performance.Experience.Presence research group Plymouth University, all welcome:
Steven Paige:
"Anxious Archives? How we might try and not forget, and it does not always have to be digital"
Wednesday, 3rd May 2017, 4.30 – 5.30pm
In Roland Levinsky Building (RLB) 306, Plymouth University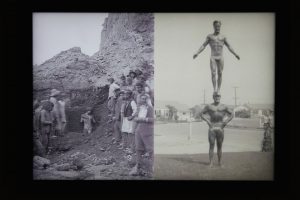 Does the advent of the digital interface ease the tension of forgetting in the archive? Using a practice research methodology working with and through moving image archives, Steven's project interrogates relationships between artefact, body, digital space and performative scenarios. He does this through mapping the critical and embodied processes of searching, extracting, and reusing archival material as an interdisciplinary artist.
The archive has been described in terms of its remedial use – 'hypomnesic', a therapeutic externalization of memory, creating a mark of our existence so the 'substrate' to be carried on into the future (Derrida, 1996). Is the digital offer of algorithmic searching and screen based evidence flattening this mark? Are the complexities of the varied, complicated, intrinsic and mediated histories held in an archive different when you can't touch them, and although always available, easily forgotten?
This presentation will consider how art produced in response to archives and its contents might be shaped by current social understanding of historical records, where approaches to cultural documentation are governed by 'rules of practice', and yet are now transformed by the approach taken through the digital interface.
Steven Paige is an AHRC-funded 3D3 PhD candidate at Plymouth University in the Performance.Experience.Presence (P.E.P) research group, supervised by Prof Roberta Mock and Dr Anya Lewin. He is Joint Programme Leader of BA Fine Art at Plymouth College of Art. He has recently completed an AHRC International Placement Scheme at the John W. Kluge Center, Library of Congress, Washington DC, USA. Recent exhibitions include We Lost our Tails, Curated by M E N, Proto Gallery, Hoboken, New Jersey, USA; Let's Go Bowling, Plymouth Arts Centre, Plymouth, UK and projects include Video Social Club with Beth Emily Richards & Rachel Dobbs & PEP Practice Research Symposium 2016 co-run with Natalie Raven at Plymouth University.