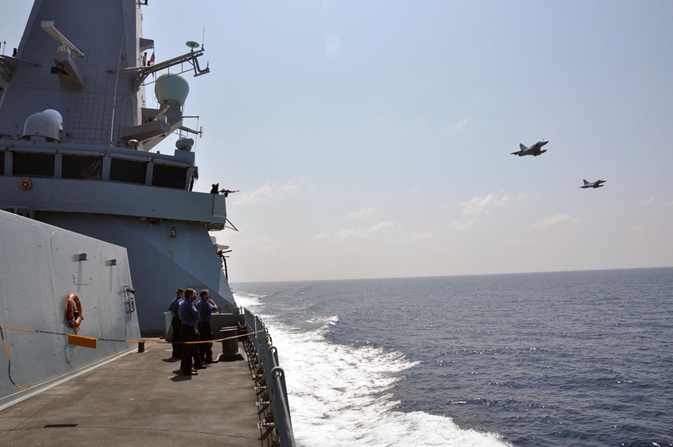 Over the course of several hours, the Portsmouth based warship took part in complex air defence training with six Mirage 2000 fighter jets.
The training demonstrated the strong partnership that exists between the allied nations and culminated in an impressive visual show of unity as the six aircraft formed up to fly past the British destroyer.
HMS Defender's Commanding Officer Stephen Higham said: "Our thoughts and prayers are with the people of France.
"This challenging Air Command and Control exercise demonstrated our ability to work together and, our capacity to fight together in the air, from the sea and over land."
HMS Defender is on a nine month mission to the Middle East conducting Air Command and Control duties as well as maritime security operations in the region.
She will work with both the US and French Carrier Strike Groups as part of the Combined Maritime Force's 30-nation maritime force.
The ship is capable of controlling the airspace across an area of 150,000 square miles (twice the size of Portugal) whilst being able to defend a task group of ships against attack from the air, either by aircraft or missiles.
Image Sourced: Royal Navy