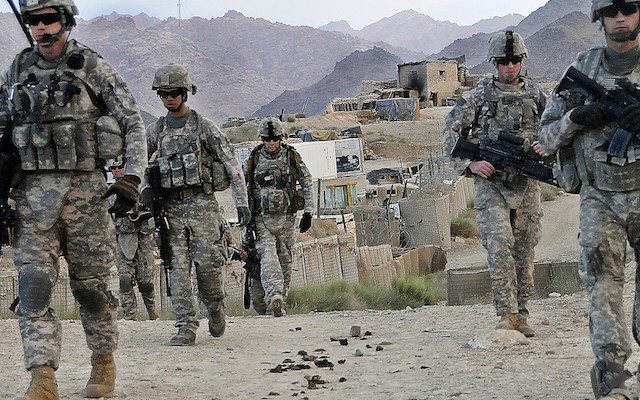 Sourced : Live Mint
By Lalit K Jha
The Trump administration is determined to take a regional perspective on the Afghan- Pakistan issue, the White House said on Thursday, noting that the previous regimes have "not done enough" to address the challenges in the war-torn country.
The White House is currently in the middle of a review of its Afghanistan-Pakistan policy, which is expected to be ready before the NATO Summit in Brussels in about a months' time.
Early this week, US defence secretary James Mattis made an unscheduled trip to Afghanistan, the first member of President Donald Trump's Cabinet to visit Kabul. His Afghanistan trip was preceded by that of the national security advisor Lt Gen H.R. McMaster who also travelled to Pakistan and India.
While on the face of it the Trump administration seems to be focused on North Korea and against the Islamic State terror group in the Middle East, it has not taken its eyes off Afghanistan.
Early this month, the US used the 'mother of all bombs' against ISIS hideouts in Afghanistan and has been holding an intense discussion with its allies on the current situation in Afghanistan. "We are in the midst of a policy review, so I don't really want to foreclose on any of the discussions we're going to have with the national security team and with the president," a senior Trump administration official told reporters.
"What we've been able to do, though, is take a fresh look at a problem that we've been engaged with for 15 years, and identify, really, and understand better how that conflict has evolved in Afghanistan and evolved in Pakistan, as well," the official said.
"What we're determined to do is to take a regional perspective, a regional look at the problem, and to make sure that we're integrating again all of our efforts. What we found is that often what's been consistent in recent years is that we've often done just enough in Afghanistan to avoid failure, but maybe not done enough. And when I say enough, I don't mean scale of effort as much of integration of our efforts to succeed," said the official who requested anonymity.
"The other critical thing that we've looked at is that our approach to regional aspects of the problem has to change, because we've taken a consistent approach, for example, to the regional dimensions of the problem, and haven't really seen improvements in assistance from others and efforts to address the problem in Afghanistan more effectively," the official noted.
He, however, did not, identify the regional players who have not been able to help the US in this regard. "So what we've done is really looked at opportunities to better connect what we're doing militarily in Afghanistan, which involves a very significant counterterrorism effort that was highlighted by recent operations against ISIS Khorasan in the far eastern part of the country, in Nangarhar Province," the official said.
"Very effective operations that have resulted in the destruction of a large percentage of that enemy force, and an enemy that is an ISIS enemy, but we've identified, really, overlap with Tehrik-i-Taliban Pakistan groups, as well as Lashkar-e-Taiba and other groups there. So it's a counterterrorism effort, certainly," the official said in response to a question.
"But, oftentimes, what hasn't happened is a very strong connection between that military effort and political efforts and diplomatic efforts, and so forth. And so that's what we're endeavoring to do with this review, is to create options that produce a better-integrated effort and a more effective effort," said the senior administration official.