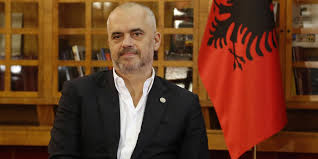 Sourced: Balkan Insight
Albanian premier Edi Rama's suggestion that Albania and Kosovo could share the same joint president was described as impractical by analysts in Pristina and strongly condemned by officials in Belgrade.
Analysts in Pristina told BIRN on Monday that Albania and Kosovo should take serious steps towards practical cooperation instead of the idea of a having a joint president, which was suggested by Albanian Prime Minister Edi Rama during a speech to Kosovo MPs the previous day.
"Kosovo and Albania will have a common foreign policy, not only joint embassies and diplomatic offices, but why not one single president too, as a symbol of the nation's unity, and a joint national security policy?" Rama asked in his speech on Sunday to the Kosovo Assembly at a ceremonial event to mark the tenth anniversary of Kosovo's declaration of independence.
Read more at : http://www.balkaninsight.com/en/article/albania-kosovo-joint-president-idea-unrealistic-analysts-02-19-2018#.WorWIXF30Js.twitter