As the mid September early-morning sun rises over London's Tower Bridge. I am watching a giant set of artificial lungs slowly fill with coloured smoke.
The 16-foot 'LUNGS' installation has been erected by City Hall on the banks of the River Thames. Unveiled by the energy company E.ON just ahead of London Car Free Day (22 September), the installation makes visible the UK's number one environmental hazard and leading public health priority: air pollution.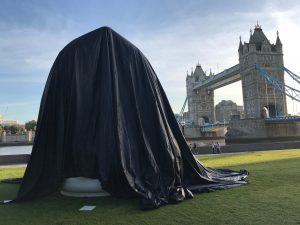 LUNGS provides the passing throng of bemused morning commuters with a dramatic visual insight of the air that envelops them every day. The installation's neon readings display near real-time air quality measurements fed to it from nearby recording stations. The coloured smoke conveys the capital's normally invisible pollutants, nitrogen oxides (NOx) and tiny particulates (PM2.5, PM10) from road transport fumes, and sulphur dioxide (SO2) from aviation and industry emissions.
For many of those around me, London's air has probably never seemed cleaner. It is certainly true that thanks to improved vehicle regulation, cleaner energy technologies, and the spread of low-emission and clean air zones, the city's urban air quality standards have improved over recent decades [1]. Yet, over those same decades our ability to measure the adverse health effects of air pollutants has also greatly improved.
Today, the number of health conditions linked to air pollution has multiplied and there is broad scientific agreement that its adverse effects are observable even at very low concentrations. [2], [3] Air pollution is the leading environmental cause of early death in the UK —contributing to an estimated 40,000 premature deaths each year [4]. About half are from heart disease and stroke, with lung cancer and pneumonia the next most common causes.  One in 20 deaths in the UK are attributable to the tiny PM2.5 particles that work their way deep into our bodies. Reaching deep into the heart, lungs and bloodstream, these particulates can impact on our wider physical, mental and reproductive health.
It is these secondary effects that are arguably the most insidious. There is growing evidence of a link between air pollution and brain health, including dementia and Alzheimer's. Residents aged over 50 in London wards with the highest levels of nitrogen oxide in the air appear to have a 40% greater risk of developing dementia than those with the least NOx pollution[5].
Children are especially at risk: exposure to air pollution when young can stunt the lungs and affect intelligence. In London, the exacerbation of asthma by air pollutants is estimated to have led to around 1000 child asthma admissions from 2014-2016, 10% of all asthma admissions in children in the city. Unicef UK report that every day around one in three is thought to be breathing harmful levels of air pollution that could damage their health and impact their future.
These findings suggest that Britain's urban air ought to be a matter of acute public concern. In addition to there being no truly 'safe' limit to the levels of air pollutants that we breathe in, further improving air quality in our towns and cities has the potential of significant public health benefits[6].  In the US, where air quality standards are far more stringent than in the UK and Europe, huge health gains have been made. [7]
It seems that what we need is a UK national strategy for clean air. A forward-looking, integrated transport policy, phasing out existing public vehicles and removing the more polluting private vehicles, and introducing incentives to use public transport and promote walking and cycling, would reduce our exposure to bad air[8].  Swapping 1 in 4 car journeys in urban areas for walking or cycling could save over £1.1 billion in NHS health damage costs per year, whilst switching one million cars from diesel to electric would save more than £360 million per year in NHS health costs from local air pollution[9]. But to get the popular support for such changes we need the public to be more aware of the quality of the air around them.
Which brings me back to City Hall on the banks of the Thames and that smoke-filled pair of giant lungs. Amid curious commuters and an early-morning news media scrum, the LUNGS installation launched the publicity campaign for E.ON's White Paper report 'It's Time To Clear The Air' [10].  A leading energy company pushing a public awareness campaign for clean air might sound odd, but ultimately the key to tackling the UK's number one environmental hazard and a public health priority will be to change the way we power our homes, businesses and transport systems.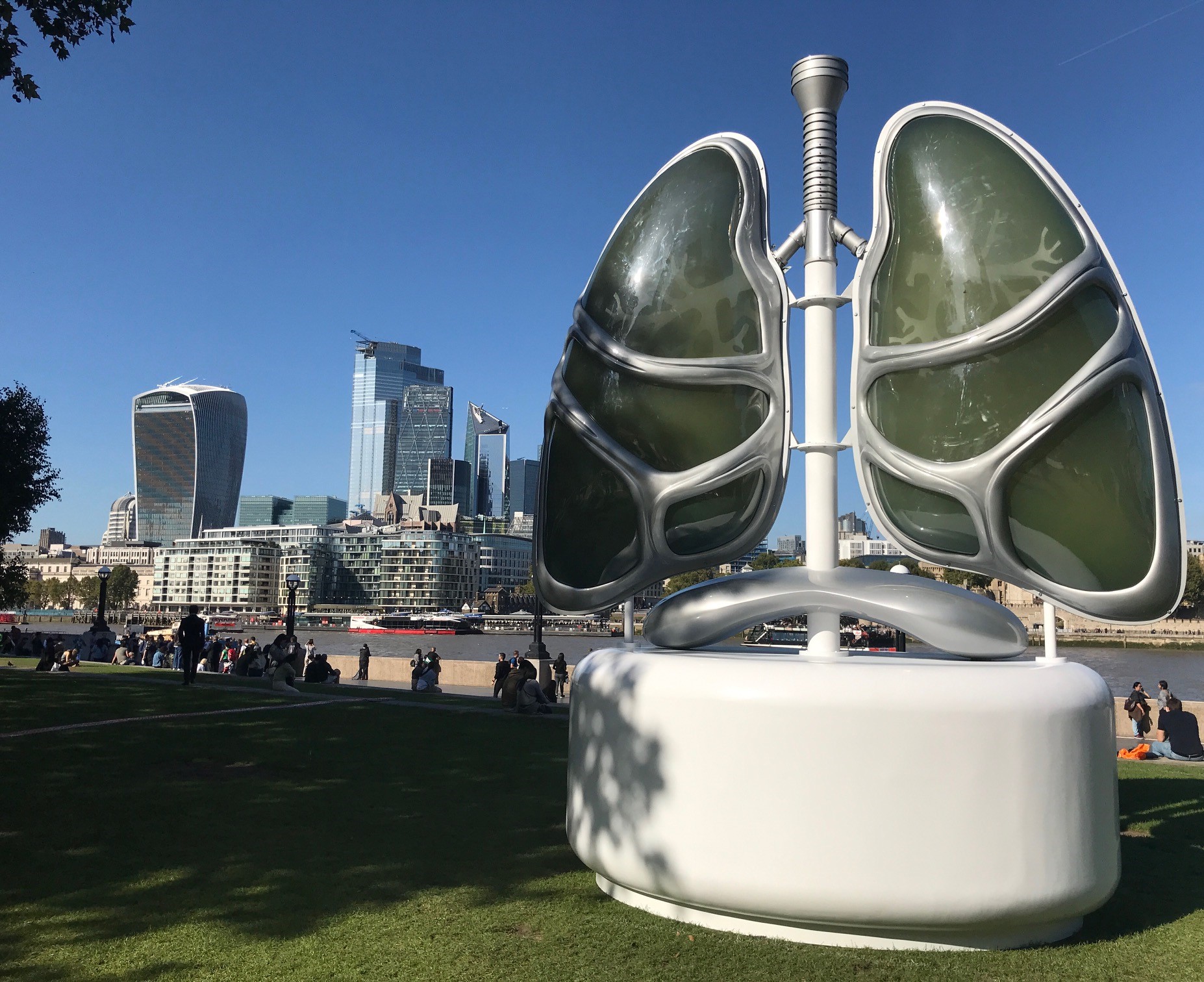 That's because decongesting our towns and cities depends not only on changing our environmental behaviour but also embracing clean energy technologies, such as electric vehicles. The health damage of diesel vehicle emissions are around 20 times more than electric vehicles and every time these vehicles are driven, they are having a significant impact on our health, equivalent to £7,714 for an average inner London car over its lifetime[11].
A collective shift to electric vehicles, however, requires a transformation in how we generate that electricity. Truly clean air will only really be achieved by decarbonizing UK power production, shifting rapidly away from fossil fuels to renewable energy sources. Moreover, given that three-quarters of Greater London's particulate matter pollution is estimated to come from outside the city, it is crucial that local actions across the country are integrated with national and international actions[12].
And so, in the immediate run-up to the week-long Global Climate Strike (20-27 September), joining E.ON in raising public and political awareness about the air we breathe in our streets every day seems to me to be an important way to localize the global implications of our society's high carbon diet. And also why it is important to support energy companies that are keen to accelerate the UK's much-needed transition to a low-carbon future.
Professor Iain Stewart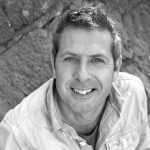 Director of the Sustainable Earth Institute
School of Geography, Earth and Environmental Sciences (Faculty of Science and Engineering)
Additional Links
It's Time To Clear The Air – E.ON Energy white paper
https://www.eonenergy.com/clean-air.html
Nitrogen Dioxide in the United Kingdom
https://uk-air.defra.gov.uk/assets/documents/reports/aqeg/nd-summary.pdf
Every breath we take: the lifelong impact of air pollution
https://www.rcplondon.ac.uk/projects/outputs/every-breath-we-take-lifelong-impact-air-pollution
'See the Air Quality Right Outside Your Door'
Acknowledgements
I am grateful to various air pollution specialists, notably Prof Stephen Holgate, Prof Hugh Montgomery and Prof Mike Depledge, in guiding me towards key reports and studies that helped inform this post.
[1] C. Tonne, S. Beevers, B. Armstrong, F. Kelly, P. Wilkinson Air pollution and mortality benefits of the London congestion charge: spatial and socioeconomic inequalities Occup. Environ. Med., 65 (2008), pp. 620-627
[2] Papadogeorgou, G., Kioumourtzoglou, M.A., Braun, D. and Zanobetti, A., 2019. Low Levels of Air Pollution and Health: Effect Estimates, Methodological Challenges, and Future Directions. Current environmental health reports, pp.1-11.
[3] Aung, N., Sanghvi, M.M., Zemrak, F., Lee, A.M., Cooper, J.A., Paiva, J.M., Thomson, R.J., Fung, K., Khanji, M.Y., Lukaschuk, E. and Carapella, V., 2018. Association between ambient air pollution and cardiac morpho-functional phenotypes: Insights from the UK Biobank population imaging study. Circulation, 138(20), pp.2175-2186.
[4] Pimpin, L., Retat, L., Fecht, D., de Preux, L., Sassi, F., Gulliver, J., Belloni, A., Ferguson, B., Corbould, E., Jaccard, A. and Webber, L., 2018. Estimating the costs of air pollution to the National Health Service and social care: An assessment and forecast up to 2035. PLoS medicine, 15(7), p.e1002602.
[5] https://www.theguardian.com/environment/2018/sep/18/air-pollution-causes-jump-in-dementia-risk-study-suggests
[6] Brunekreef, B. and Holgate, S.T., 2002. Air pollution and health. The lancet, 360(9341), pp.1233-1242.
[7] https://www.epa.gov/clean-air-act-overview/progress-cleaning-air-and-improving-peoples-health
[8] F. de Leeuw et al., Assessment of personal exposure to particulate air pollution during commuting in European cities – Recommendations and policy implications, Science of the Total Environment, August 2014, pp.785-797. https://doi.org/10.1016/j.scitotenv.2014.05.036
[9] https://www.eci.ox.ac.uk/news/2018/0606.html
[10] https://www.eonenergy.com/clean-air.html
[11] https://www.eci.ox.ac.uk/news/2018/0606.html
[12] Howard R (2015) Up in the Air: How to Solve London's Air Quality Crisis: Part 1, Policy Exchange. https://policyexchange.org.uk/publication/up-in-the-air-how-to-solve-londons-air-quality-crisis-part-1/