Thursday 16 and Friday 17 June 2016
Roland Levinsky Building and Scott Building, Plymouth University
The Land/Water 2016 symposium, Journeys and Transmission, explores contemporary concerns about our relationship to the world. Following the journeys we make as artists and researchers to acquire knowledge and to share an understanding of what it is to be human in the post-industrial era of an increasingly globalized and networked twenty first century.
These journeys may be personal – understood as a changing consciousness or a sense of identity and selfhood, or an altered subjective space; conceptual – manifested as a paradigm shift within a philosophical framework or 'thinking outside the box'; or geographic – driven by social, economic or political imperatives.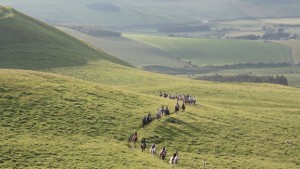 Using an engaged, critical lens, we consider the ways in which creative practitioners respond to the land and the waters that flow through it, translating sensory or digital data into material forms.
In addition, we are interested in the manner in which information is conveyed/transmitted across time and place – from one generation of people to another, questioning the appropriation of the past as evidence for the writing of history in relation to its use as the source of stories in the present.
Also of relevance are the ways in which ideas are conveyed between practices, or are reshaped in the transmission from one medium to another, or through combination, creating new hybrid forms that extend aesthetic appreciation and cultural critique into new areas.
Organisers: Kayla Parker and Polly Macpherson, with Carole Baker
Administrator: Rebekah Cunningham
Please book through the Plymouth University estore
Provisional schedule:
Thursday 16 June
1.00pm > 2.00pm Registration
2.00pm > 5.00pm Panels 1 and 2 – includes break
6.00pm > 7.00pm Guided walking tour led by Phil Smith – optional
7.00pm > 9.00pm Evening meal at waterside restaurant – optional
Friday 17 June
10.00am > 12.45pm Panels 3 and 4 – includes break
12.45pm > 2.00pm buffet lunch; portfolio viewing – optional
2.00pm > 4.00pm Panel 5 and plenary
4.00pm symposium ends
The Land/Water and the Visual Arts research group at Plymouth University. It includes researchers, artists, writers and curators who interrogate nature and culture, aesthetics and representation, questioning imagery and practices relating to land, landscape and place.
Contact:
Rebekah Cunningham: rebekah.cunningham@plymouth.ac.uk