You are invited to participate in a wide range of workshops during Off The Lip, which takes place from 20-22 October 2016 at Plymouth University.
This event arises from CogNovo, which is a multidisciplinary and international research project exploring creativity, cognition, and innovation.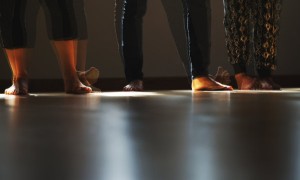 Among the Off the Lip workshops are:
A Space to Wonder: Interactive Improvisation Workshop with Movement and Biosensors
22 October 2016, 11am – 3pm in the Roland Levinsky Building, Plymouth University
During this workshop we are inviting participants to explore movement in a group of 6 people in an environment which invites the senses to be heightened, by limiting the light within the room. During this 15 minute experience all participants will be invited to wear a biosensor that will allow you to listen to your breathing patterns the data from the sensors is sonified to produce a sound scape.
Through this experience we aim to expose the participants to their senses and self awareness through bringing together the physical and mental space. Participants are invited to explore their breath through improvised movement and interactions with the other people, creating a playful shared experience. Listen to yourself, to your body as well as the sounds that are created through the sensors – and see how this resonates with the environment, with others, and your own thoughts.
This workshop is presented by Klara Łucznik, Abigail Jackson, Eugenia Stamboliev and Ali Northcott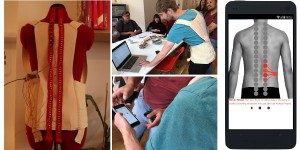 Haplós: Vibrating Clothing for Well-Being and Play
20th and 21st October 2016, 7-9pm in the Roland Levinsky Building, Plymouth University
This is a workshop, led by Diego S. Maranan, in which participants can experience what it's like to wear vibrating clothing that they can control and program! Haplós is an experimental wearable device aimed at helping users of the device to sense themselves better. This 'sensory hacking' technology is composed of a set of vibrating motors which run along the user¹s back and other parts of their body, and which can be controlled by a mobile phone. Users can create, record, and play back patterns of vibration.
Participation is limited to 10 participants and advance registration is required. Participants may sign up for one or both evenings (some activities may be repeated across both evening).
You can book for either workshop via this Eventbrite page
This is just a small sample of the events on offer during Off the Lip. Others include wine tasting, a fantasy orchestra, controlling robots, and virtual reality for beginners. Please visit http://otlip16.cognovo.eu/ for full details.