BY JAANA ERKKILÄ-HILL
A well-known story tells about three wise men who followed a star and left their valuable presents to a newborn baby somewhere in the Middle East over two thousand years ago. It is a strange story about looking for meaning and value in something that is unknown; a story about following your intuition and giving luxurious presents, gold, myrrh, frankincense to someone who might have needed more food and nappies.
This is a story about an artist's way of travelling through the world: to follow a star to unknown destinations, to search for the miraculous and not to worry about the trouble it takes. A story about leaving your valuable presents without knowing how they will be used and returning home without too much fuss and noise.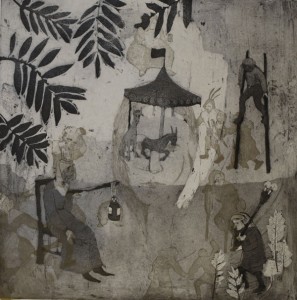 Artists could be called the nomads of contemporary times, travellers who find home where their work takes them. Artists do travel between countries and continents, but also between identities, ways of making their everyday living. Artists travel between personal and common, from individual to community based existence; they rise from ashes over and over again like Phoenix.
I propose the development of a Travelling Laboratory for Slow Thinking that uses mechanisms and structures of artistic thinking, walking and silence as a way of creating and exploring new ways of seeing and listening.
The artists' way of travelling is a light way, a sustainable way which most often manages to combine work and recreation. To travel like an artist is to be open for everything that comes on your way. You can sketch, document, make notes, leave tracks and collect memories.
But equally good way is just to walk your eyes open and inhale smells, listen to the sounds of silence or noise of the world and let it all be stored somewhere in you for later use.
To travel like an artist means not to leave your brain behind and get rid of your everyday life. To travel like an artist means that you look at your life with new eyes, from new perspective and find new meanings in old ways.
Artistic nomadism means flexibility, being present where you are, being free to take an unexpected route and change your plans when your intuition tells you so.
Looking at life with new eyes can be done wherever and whenever. You can travel like an artist and go nowhere.
Daniel Kahneman writes about fast and slow thinking. He is not writing deliberately about environments, but the importance of outer circumstances come through his writing all the time. He tells about joy of working together with Amos Tversky and how they developed a routine to spend most of their working days walking and discussing together.
Kahneman claims that he has done his best intellectual thinking work while walking with pleasant speed. When he walked faster the experience of walking changed dramatically and moving into faster speed made his ability for logic thinking much weaker. On the other hand he says that if there is a need to construct a complicated model of thinking in a limited time he rather sits than walks or even stands.
Frédéric Gros refers to Nietzsche, who has written:
"We do not belong to those who have ideas only among books, when stimulated by books. It is our habit to think outdoors – walking, leaping, climbing, dancing, preferably on lonely mountains or near sea where even the trails become thoughtful."
Peaceful walking makes you think better. The possibility to move while you work makes it easier.
When I work at home I sit for a while in front of my computer, write or do some visual work, then I stand up, walk around and might do some washing up while still thinking about the work in process, I take my dog for a walk. I am not bound to a single chair and desk, not even to a single room, but there is a sense of freedom and I know that there is a possibility to work without other intellectual challenges interrupting my thinking. What is most important, I do not feel being in a hurry.
Walking as an act of art puts focus on awareness and presence. A journey can have a break and stop for sketching, documenting, writing or working on land art using natural materials that happen to be available.
Through artistic thinking while walking we learn about observing and seeing what is around us and how we can possibly use that awareness for making something out of it.
A simple act of walking seen in the context of the contemporary art world takes us into the realm of imagination and re-thinking what might simply be documentation.
Artistic thinking can be understood as abstract construction of imaginative worlds, but equally it can take a form of visual expression or a literal narrative that is based either on fact or fiction. What shifts and transforms our thinking and the act of walking from ordinary to artistic is the framework and purpose of the action.
Artistic thinking frees us from result orientated way of thinking and acting and enables us to enter a free space of seeing and listening the world around us. The artistic approach to the world is not so much about creating something out of one's imagination as about seeing and listening signals that come from the world around us and then interpreting and giving a communicable form to those signals. Artistic thinking is about seeing the invisible and about listening to inaudible.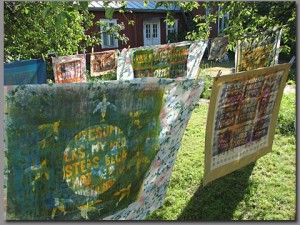 Why combine artistic thinking with walking? To walk is to be on a journey and to be on a journey means that you are between two places on your way from A to B. The artistic and/or the creative process is often seen as being on the threshold, in a state of transmission, being not yet there neither here; it is about liminality.
Even if when walking you might know where you are aiming at; you cannot know all of what you are going to face during your journey. There is a strong element of unpredictability. The real process of making art, of artistic thinking is thick with unpredictable particles. And all real innovations are about unpredictable obstacles, unexpected signals coming on your way and your capacity to be aware of what is given to you.
Walking is an act of liminality. Walking symbolizes and gives a framework for artistic thinking process and it also enables the participants to take artistic actions during their walking.
My mission is actually to make people realize the value in their everyday life. You can travel in your own environment without going anywhere longer than walking distance. You can travel even in your own room, through your imagination and entering the worlds of other people's imaginative worlds through works of art.
Instead of gold, myrrh and frankincense, a Travelling Laboratory for Slow Thinking could offer silence, slowness and solitude to a contemporary academic working environment that is too often occupied with speed, noise and competition.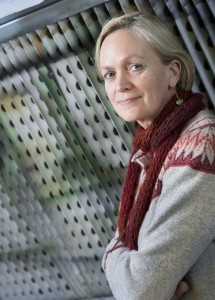 About the author:
Dr Jaana Erkkilä-Hill is Professor of Visual Arts at the University of Lapland and Visiting Professor in the Arts Institute at Plymouth University.