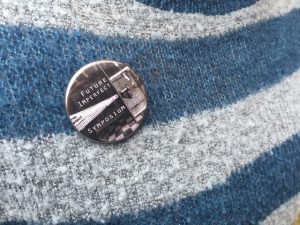 By Allister Gall
The Future Imperfect symposium at University of Plymouth was convened by Dr Allister Gall, a Lecturer in Media Arts and Film and Television Production, and MA Contemporary Art Practice student Katy Richardson, in collaboration with Dr Anya Lewin, Associate Professor in Art and Moving Image, and the Moving Image Arts (MIA) research group.
The day focused on the diverse ways in which the term 'imperfection' has and can be deployed in audio-visual practices, how 'imperfection' can be interpreted and interrogated within various media forms and traditions, how 'the potential of the idea of imperfection can be an emancipatory concept', and how 'imperfection' can be adapted and expanded in response to changing technological contexts of production and exhibition. In this sense, the term 'cinema' was understood as an umbrella term for moving image, sound and time-based forms.
The keynote speakers were Anna Schober, Professor of Visual Culture Studies at Alpen-Adria-University Klagenfurt, and Melanie Manchot, a London based visual artist who works with photography, video, film and sound to explore performative and participatory situations.
A central theme focused on participatory practices within art and moving image alongside shared and collective experiences. The day was framed by collaborative workshops led by artist Rose Gibbs, the Imperfect Orchestra, and Imperfect Cinema. The cameraless film and sound score made by delegates during the day were presented as part of the programme of evening performances. Other workshops included an Imperfect Virtual Reality session led by Dr Michael Straeubig, Lecturer in Digital Media Design, and creating live scores to original film works with Shaun Lewin and the Imperfect Orchestra. Also distributed at the symposium were 100 bespoke zines made by the artist Dagmar Schwitzgebel.
The multi-disciplined symposium was international in its scope and featured a wide range of academic papers, screenings and live screen-sound performance. Over eighty people attended from the UK, Europe, and America. This diversity was reflected in the variety of approaches, ideas and concepts around the interrogation of the idea of imperfection and its relation to moving image art practice. Looking to the future, the participatory and convivial event suggested new ideas and possibilities – for both future 'Imperfect' events as well and dynamic possibilities for cinema practices and research.