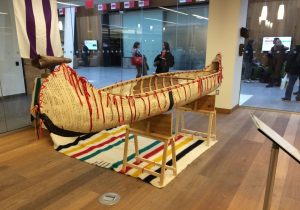 5pm – 7pm, Roland Levinsky Building Room 306
For 2017's US Thanksgiving/National Day of Mourning, the Performance.Experience.Presence research group at the University of Plymouth invites arts researchers to look towards Plymouth's commemorations of the 400th anniversary of the sailing of the Mayflower from Plymouth, UK to Massachusetts, USA. Plymouth, along with 10 other UK towns, Leiden, The Netherlands, Plymouth, Mass, and the Wampanoag tribe, will be delivering an ambitious programme of arts and heritage events commemorating the 1620 voyage in the lead up to Thanksgiving 2020. We will be discussing: How can we as practitioners/researchers respond to the Mayflower 400? How should cities deal with legacies of colonialism? (How) can we decolonise Mayflower 400? We will be looking to strategies of counter-memorials, for example, artworks critically responding to Canada 150, and the Countering Colston movement.
Speakers include:
Kathryn N. Gray is Associate Professor (Reader) in Early American Literature, with specialisms in the literatures of colonial New England. She's currently working a textual-editing project with the Omohundro Institute in the US, a project which will recover and reclaim an original Mayflower narrative, Mourt's Relation (1622), for a new generation of readers; she has also published work on Native American literatures and cultures in colonial and contemporary contexts.
Tory James, in his own words, "is a fat fifty-eight year old professional photographer with bad knees. He has worked almost every aspect of the trade from journalism to commercial to corporate. Sometimes he manages to make images that he think's might even approach art, although he is certain that photography is not art. He has also sat on numerous First Nations boards, committees, and councils. He is an unapologetic activist if sometimes a contemptible spy."
Alex McKay, non-indigenous, is a dual national, was born to Canadian parents in Detroit, Michigan. He is of Scottish and English extraction, his family coming to Canada in the mid-19th and mid 20th centuries. He has been making art addressing issues of landscape and place, identity and empire, from a post or de-colonizing perspective, for almost 30 years. His work often touches upon the fraught relationship between the dominant Settler Culture and Indigenous people. He considers himself a 'settler ally', although he acknowledges that this may be an oxymoron. He lives in Windsor with his wife and two children, his wife being the bread winner, he being the 'stay-at-home' primary care-giver.
Roberta Mock is Professor of Performance Studies and convenor of the Performance.Experience.Presence research group at the University of Plymouth. She is the co-editor, with Colin Counsell, of the book, Performance, Embodiment & Cultural Memory (2009).
Dr Stephanie Pratt, formerly Associate Professor (Reader) in Art History at Plymouth University, is a Dakota tribal member and was appointed Cultural Ambassador for the Crow Creek Dakota Hunkpati and Tribal Council in 2015. She has published widely in a number of topics related to the visual representation of Native Americans including museum and gallery representation of Native American arts and cultures and on contemporary Native American art. Recently, she was Guest Editor for the Benezit Dictionary of Art's update for Contemporary Native American artists' biographies (Oxford University Press, 2014). Her book, American Indians in British Art, 1700 – 1840(Oklahoma University Press, 2005), explored the construction and reception of images made about American Indians in art during the colonial and post-revolutionary war periods. She co-curated two well-received exhibitions for the National Portrait Gallery, London: Between Worlds: Voyagers to Britain, 1700 – 1860 (London, 2007); and George Catlin: American Indian Portraits, (London and Birmingham, 2013) both of which raised questions about the reception of Native American arts and cultures in Britain. Her work as a Cultural Ambassador includes consultation on the 400th anniversary commemorations of the visit of Pocahontas/Rebecca Rolfe to England and Pocahontas' legacy.
Beth Emily Richards is a PhD student at Plymouth University, an artist, and a creative producer for Take A Part, a socially engaged arts organisation. She is interested in how artists engage with narratives of site, to uncover hidden histories, deconstruct mythologies, and to critique dominant historical narratives. She is currently developing Reverberations with Take A Part, a public realm art programme and symposium taking place in 2020, which responds to narratives of Mayflower 400 including migration and histories of colonisation.
Marcy Saude is an artist working in time-based media. Her practice explores subjects including marginal histories, the landscape, counterculture, radical politics, speculative fiction, and text(s). A Portuguese national raised in the USA and currently based in Plymouth, she works with artist film collectives in Bristol and Rotterdam. She is currently collaborating with Mayflower 2020 Our Voice, an emerging group of activists planning critical programming around Mayflower 400, as well as developing a short film involving inscriptions of settler colonialism in the Barbican, post-referendum immigrant experiences of Plymouth public space, and Anglo-Saxon re-enactors as a way to think through waves of migration in Britain.