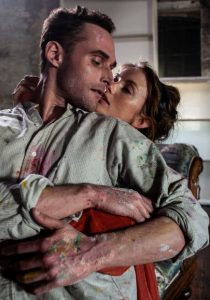 (Image Copyright: BBC. Image Credit: Bethany Hobbs)
Gemma Blackshaw, Professor of Art History, will be talking about her research in the BBC Studios Production film Egon Schiele: Dangerous Desires, which broadcasts on 10th November, 9pm, on BBC Two.
Struck down by the Spanish Flu in 1918, aged just 28, in his short life Egon Schiele created over 3000 drawings and paintings, many of them self-portraits and nudes. His sexually frank images shocked audiences in early 20th-century Vienna and still challenge us today. Are these the images of empowered young women in control of their sexual lives, or the impoverished and vulnerable, using their bodies to survive? Directed by Teresa Griffiths, known for her thought-provoking documentaries on women artists and writers, the film both celebrates Schiele's remarkable artistic achievements and debates the controversies around his work. As Professor Blackshaw, who works on the intersection of modernist figuration and pornographic photography in 'Vienna 1900', remarked in her interview for the documentary:
"I wouldn't say the women Schiele represented in his explicit drawings were empowered, and though it's immensely difficult to be conscious of the ideological forces that swirl around you, I think women of the time sensed this. It's fascinating that Schiele found it a challenge to break into the market for portraits commissioned by female sitters. He certainly tried as it was incredibly lucrative. But there are very few examples of financially independent women reaching out to Schiele to have their portrait painted, which is in marked contrast to his mentor Gustav Klimt, who enjoyed a wealth of female patronage… In addition, there are very few examples of women collecting Schiele's work. The Viennese heiress Magda Markhof, an important patron of modern art, declared she had no interest in his figurative work: it just didn't appeal. As she said in a letter to Schiele, 'Your drawings show that you have a quite different way of looking and feeling than I do…' I think this is so revealing: empowered women did not identify with this work. It was aesthetically progressive, to be sure (Magda bought a landscape, knowing she had to have something by Schiele in her collection), but that didn't make it politically progressive."
To mark the anniversary of his death a century ago, and the occasion of the exhibition Klimt / Schiele at the Royal Academy, London (4th November – 3rd February 2019), this film tells Schiele's dramatic story in his own words, using original letters and writings, many of them translated for the first time. With contributions from scholars, collectors, artists and performers, including dramatic reconstructions choreographed by acclaimed physical theatre company Gecko, the film conjures up the passionate, provocative world of Egon Schiele.