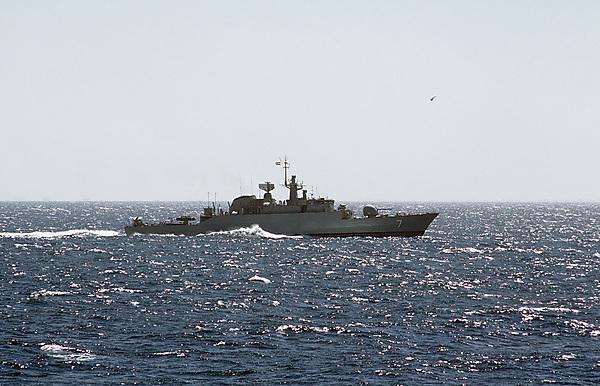 After a failed attempt to resupply the Shi'ite Houthi units with ammunition and new weapon systems the Iranian Navy sent two vessels to the Straits of Bab el-Mandab in order to protect commercial ships.
According to the official announcement of the operation by the head of the Iranian Navy Rear Admiral Habibollah Sayari the two vessels the frigate Alborz (F-72) an Alvand-class vessel and the light replenishment ship Bushehr, are present in the Gulf of Aden "in accordance with international regulations to ensure the safety of commercial ships of our country against the threat of pirates".
The two vessels are patrolling the entrance of the Straits of Bab el-Mandab off the coast of Yemen. The strategically important Straits of Bab el-Mandeb is a narrow body of water separating Yemen and Djibouti.
Approximately four million barrels of oil pass each day the straits headed to or from the Suez Canal. Several military vessels from Egypt, Saudi Arabia and the USA are patrolling the waters of the Gulf of Aden because of the war between the forces of the Shi'ite Houthi rebels and troops loyal to the previous President of Yemen.
The escalation of the conflict with the intervention of the Arab alliance lead by Saudi Arabia has forced Tehran to attempt sending commercial boat with the escort of Fast Attack Missile Boats full of supplies for the Shi'ite Houthis and increase its naval military presence in the region.
Although that the Iranian flotilla has limited military capabilities, compare to the US and Arab naval forces in the Gulf of Aden, Tehran tries to send its messages to the rest of the world that it is not abandoning its allies in Yemen.
At the moment Arab naval forces have enforced a sea blockade while the Iranian Navy announced that its two vessels are going to patrol off the coast of Yemen until late June.
Iran denies reports that is has been arming Shi'ite Houthi rebels in Yemen and Tehran called the international community for the immediate end of Arab coalition air strikes in Yemen as a condition to resuming dialogue aiming the end of the crisis in the country.