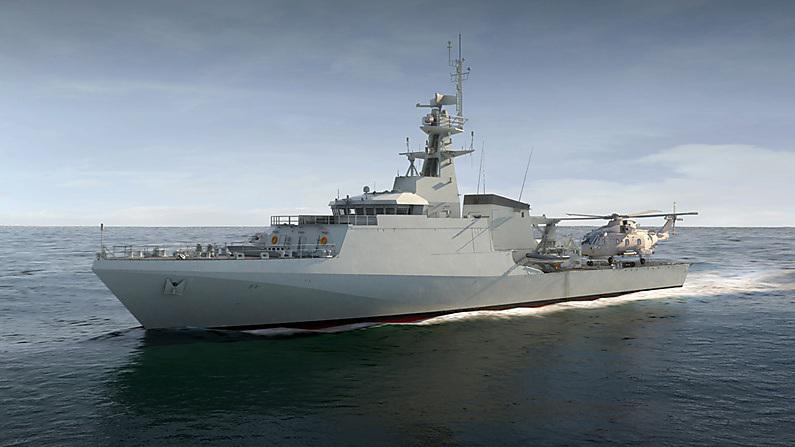 Defence Secretary Michael Fallon 'unleashes the white heat of technology' as the first steel is cut on the Navy's second new patrol ship.
This is HMS Medway, the 'middle child' of three offshore patrol vessels which will begin to join the Fleet from 2017.
Mr Fallon started the computer-guided laser to cut the first piece of hull before talking with workers at BAE's Govan yard on the River Clyde and seeing progress on HMS Forth, the first of the trio which has been under construction since last autumn.
In time they'll be joined by HMS Trent, the final of this third generation of River-class patrol ships as part of a £348m deal with BAE which will keep 800 shipwrights and engineers busy for several years.
"The people of Medway – like me – are proud that the area's name will continue to be linked with the United Kingdom's naval history,"
said a delighted Mayor of Medway Barry Kemp.
"Medway has a long and rich naval history and we are delighted that this new vessel will recognise our important maritime links. From the Spanish Armada to the Falklands Crisis, ships built, repaired and manned at Medway secured and maintained Britain's command of the world's oceans over many centuries."
Displacing around 2,000-tonnes, the 90-metre (295ft) HMS Medway will be equipped with a 30mm main gun, 16-tonne crane for two sea boats, capable of making 24kts and patrol for upwards of 6,000 miles or 35 days with a crew of just 34.
An extended flight deck (only HMS Clyde of the first batch has one) will be able to operate Merlin or Wildcat helicopters, while there's accommodation aboard to take an extra 24 personnel, such as boarding teams, depending on the mission.
As well as providing the Royal Navy with new ships, the building programme for the third generation of River-class vessels will act as a stepping stone to work on the next generation of frigates, the Type 26s, which will start to be built later this decade.
Sourced: Royal Navy