Sourced : Royal Navy
After eight days at 'war' the F-35A conventional aircraft achieved a 15:1 kill ratio against the F-16s.
The 'jump jet' B version of the fifth-generation strike fighter will fly from HMS Queen Elizabeth and her sister Prince of Wales.
Lt Col George Watkins, an F-35 pilot and 34th Fighter Squadron commander, said: "I've had four of my (F-35A) pilots come back from missions, guys who have flown the F-15 and F-16 at Red Flag for years, and tell me 'This is amazing. I've never had this much situational awareness while I'm in the air.I know who's who, I know who's being threatened, and I know where I need to go next.'
"You just don't have all of that information at once in fourth-generation aircraft."
Red Flag, held annually at Nellis Air Force Base in Nevada, involved pilots and maintainers from 388th and 419th Fighter Wings at Hill AFB, Utah.
Hill's airmen generated 110 sorties, including their first ten-jet F-35A sortie.
They have not lost a single sortie to a maintenance issue and have a 92 percent mission-capable rate, said 1st Lt Devin Ferguson, assistant officer in charge of the 34th Aircraft Maintenance Unit. Legacy aircraft averaged 70 to 85 per cent mission-capable.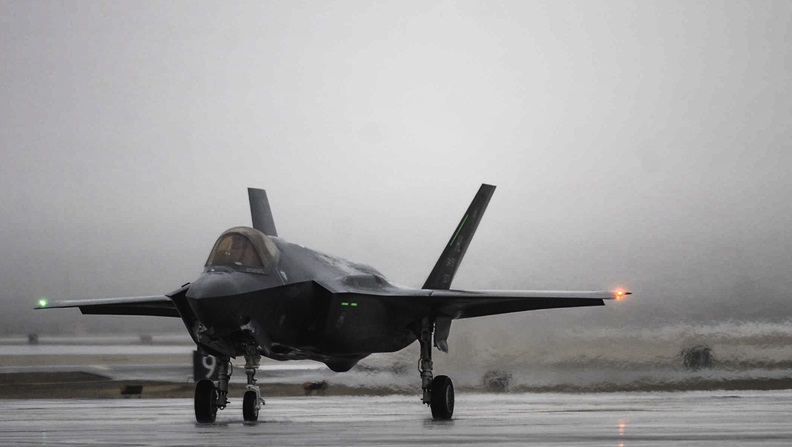 Red Flag is designed to provide airmen with realistic combat scenarios and increase survivability in real combat. The three-week exercise pitted "Blue Air" (friendly) against "Red Air" (enemy) in an all-out air war featuring air-to-air, air-to-ground, search and rescue, and special forces elements.
Flying alongside F-22 Raptors, as well as a variety of US and coalition fourth-generation aircraft from Australia and Typhoons from the RAF, the capabilities of the F-35A were put to the test with robust combat scenarios that focus on the jet's core capabilities.
Last month the UK signed an initial release to service which sets out safe operating limits.
Pilots and engineers from the Royal Navy are currently based in the US working on bringing the F-35B into service with HMS Queen Elizabeth due to embark her first jets in 2018.