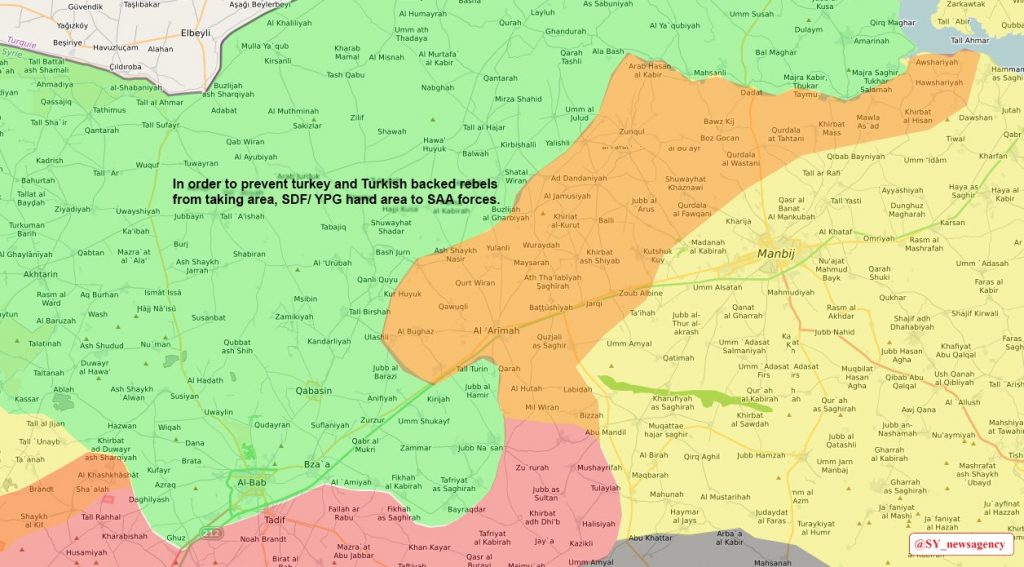 Sourced KOM News
The Manbij Military Council (MMC) has made a statement saying it has reached an agreement with Russia to transfer the defence of the line to the west of Manbij (Arima) to Syrian government forces.
The statement by the MMC, a component of the Syrian Democratic Forces (SDF) on Thursday read:
"Protecting civilians from the negative affects of war, defending Manbij's security and nullifying Turkey's invasion plans in Syria are some of the objectives the Manbij Military Council has for all the peoples of Syria.
"To reach these objectives we have transferred, after reaching a new alliance [agreement] with Russia, the defence of the line to the west of Manbij – where the villages between us and the gang groups [FSA] affiliated to the Turkish army are – to Syrian state forces."
Clashes have continued between Turkish-backed FSA groups and MMC fighters since Wednesday on the western and northwestern border of Manbij.
Turkey's Euphrates Shield operation, which was launched in August 2016, captured al-Bab from the Islamic State (IS) group last week, but has now reached areas held by Syrian government forces in the south and SDF positions in the west. Turkey has said its forces will attack Manbij to take the town from the Kurdish People's Protection Units (YPG), a major component of the SDF, which it considers a 'terrorist organisation'. The YPG has denied it has fighters in Manbij.
A claim by US General Stephen Townsend that a Russian airstrike had hit SDF positions in the Manbij countryside on Wednesday night was denied by the Russian Defence Ministry.