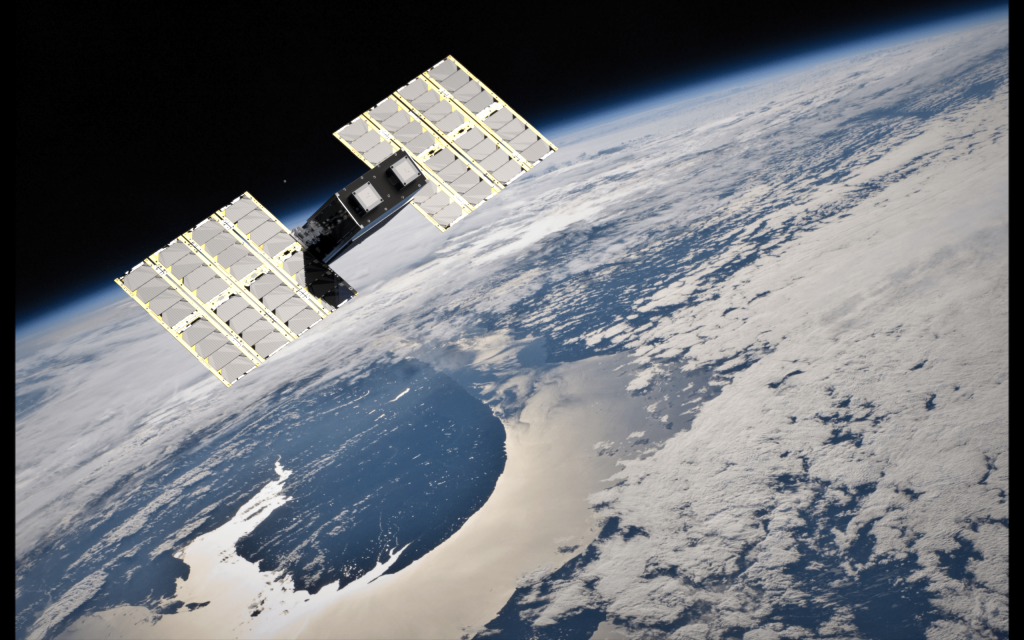 By Chris Lavers
Space Flight Laboratory (SFL), a developer of microspace missions for over 21 years, has announced a new line of high-performance, low-cost CubeSat buses. The 3U ("THUNDER"), 6U ("SPARTAN") and 12U/16U ("JAEGER") CubeSats complement SFL's legacy suite of space-heritage nano-satellites and micro-satellites, fulfilling mission size requirements from 3 kg to 500 kg. The deployment of systems provided by companies like SFL and the Starlink system are transforming near-earth space beyond recognition.
SFL was amongst the first companies in the world to launch CubeSats, including the CanX-1 CubeSat in 200,3 and CanX-2 in 2008, with capabilities that exceeded the state-of-the-art at that time. Since then SFL has focused on somewhat larger, more mission capable satellites for more challenging missions, gaining a reputation for "quality at low cost." As SFL delivered high-performance, high-quality microsatellites for over two decades; since then the CubeSat market has significantly matured, and the number of commercial and potential military opportunities has increased dramatically.
Their latest product line of high performance CubeSats leverages SFL's quality platform technologies whilst addressing the need for aggressive, disruptive missions and satellites that are as small as possible to meet highly constrained business demands, with SFL's ability to leverage more than 22 years of experience and technological advancements.  Bringing to bear the accumulated power of SFL know-how and technologies will satisfy the now much more targeted and mature demand for platforms that perform well and are compatible with commercial-off-the-shelf CubeSat deployers and aggregated launches.  "SFL can accommodate the budget and performance objectives of any microspace mission," said SFL Director Dr. Robert E. Zee. "And we are positioned to meet the evolving spacecraft development and business model requirements of different organizations – from disruptive demonstration missions to fully operational constellations."
I state the question to SFL of who exactly they are offering CubeSats to and what they envisage the future CubeSat market to be?
Zee replied, "The new line of high-performance CubeSats will allow us to offer something for everyone, from market disruption to long-term operational stability. The spectrum of SFL platform offerings will enable staged roadmaps to larger missions for some customers. Having platforms that cover the full range of capability will make transitioning and forward compatibility easier for our most demanding clients."
With demonstration and operational programs in mind, SFL has announced Newspace (accelerated) and Microspace (standard) development options for their new CubeSat line. The accelerated procedures are designed to move demonstration satellites quickly through the development process and into orbit for short-term proof-of-concept performance. They can also be used operationally in scenarios where rapid replenishment is planned. Microspace, or SFL's standard development approach, which has been perfected at SFL for more than two decades, ensures the reliability of operational spacecraft built for long-duration missions in orbit. These options may suit potential military and civilian customers quite differently, and allows the satellite development line to be specially tailored to meet mission specific requirements in a short period of time.
"Every satellite we build – whether CubeSat, nanosat, or microsat – incorporates the same flight heritage, avionics, and attitude control that we have developed and refined after developing 52 distinct satellites – either launched or launching soon – the Microspace Way," said Zee. "Regardless of the demands of the mission, we use the same generic core and scale the platform as necessary to meet specific mission objectives."
SFL satellites have together achieved more than 121 cumulative years of operation in orbit. These microspace missions have included SFL's trusted attitude control and, in some cases, formation-flying capabilities. Other core SFL-developed components include modular (scalable) power systems, onboard radios, flight computers, and control software.
The new SFL CubeSats will be ideal for NewSpace programs that are intended to either disrupt commercial markets or operate from a long-term rapid replenishment strategy. The industry-accepted form factors of CubeSats make them attractive for proof-of-concept programs or programs that involve repetitive quick replenishment where cost constraints are critical. They fit the cost models of some businesses because they are built for orbital deployment from, and aggregation of relatively inexpensive, standardised dispensers being mass produced on the market today.
"Once a demonstration CubeSat is launched and successfully commissioned, SFL is able to trigger mass production for rapid deployment and replenishment or leverage the success to take our client's business model to the next step. This may involve transitioning to longer lifetime CubeSats and/or our legacy microspace platforms which can be done with relative ease," said Zee.
SFL's heritage of on-orbit successes includes missions related to Earth observation, atmospheric monitoring, ship tracking and communication, radio frequency signal geolocation, technology demonstration, space astronomy, solar physics, space plasma, and other scientific research. SFL generates bigger returns from smaller, lower cost satellites. Small satellites built by SFL consistently push the performance envelope and disrupt the traditional cost paradigm. Satellites are built with advanced power systems, stringent attitude control and high-volume data capacity that are striking relative to the budget. SFL arranges launches globally and maintains a mission control center accessing ground stations worldwide. The pioneering and barrier-breaking work of SFL is a key enabler to tomorrow's cost aggressive satellite constellations.
About Space Flight Laboratory (www.utias-sfl.net)