Pierre-Emmanuel Largeron, a PhD candidate at the University of Plymouth, has been chosen to receive one of seven Trophées des Français de l'etranger 2017, which celebrate the achievements of French expatriates and francophones around the world.
Organised by lepetitjournal.com, in partnership with national government, business and media, the awards on Tuesday 7 March were attended by more than 300 personalities, including political and institutional decision-makers.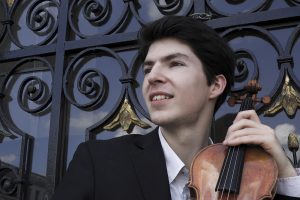 Pierre is currently in the final year of his doctoral programme in the Interdisciplinary Centre for Computer Music Research (ICCMR). His Director of Studies, Prof Eduardo Miranda, has said:
We do all we can to harness our PhD students' talents and I am delighted for Pierre that he has received this award. He is a very talented and accomplished musician, and I look forward to continuing working with him as he nears the completion of his studies.
The main focus of Pierre's research is the use of digital platforms to enhance audience participation, particularly with relation to the internet. His ambition is that someone could be anywhere in the world but still be able to appreciate, and even participate in, live performances.
The technology he is playing a role in developing has been used at the last two Peninsula Arts Contemporary Music Festivals, held at the University, but Pierre is now expanding that to make it accessible to wider audiences.
Composers have sought to include audiences in the creative process since the 18th century, and the psychological effects are widely recognised," Pierre added. "With advances in technology, such as 3D screens and enhanced acoustics, all you need is an internet connection to enjoy some of the world's best concerts. It is an exciting area of research to be involved in.
While in Plymouth, Pierre has also continued to perform, appearing as the soloist alongside the Ten Tors Orchestra in June 2015 and working with Peninsula Arts to organise a series of maritime themed concerts in 2015 and 2016.