Embodied Disturbance
Wednesday, 29th March 2017, 3-6 pm
in Rolle 018, University of Plymouth
This workshop, which is organised by the Artistic Research Cluster at Plymouth University, seeks to bring together researchers drawn mainly from the artistic fields, but also invites researchers from across all domains that have cognate interests in, what might broadly be described as, embodied disturbances.
The workshop, hosted by Dr Thomas Baugh and chaired by Dr Deborah Robinson (Plymouth University), seeks to uncover experiences regarding mental health, and well-being, through individual artistic contributions, presented by each participant.
It seeks to communicate, and question, traditional notions of, what is often considered within the medical field, as a mental disturbance, or disorder.  The workshop aims to uncover notable conscious embodied experiences, and the fragility of the human mind, and body, through different art practices and discussion, which have, or do, affect behaviour. In doing so, the workshop seeks to challenge what is often classed, defined, or categorised, as acts of miss-perception, hallucination, perceptual abnormalities, routine, habit, or simply overlooked.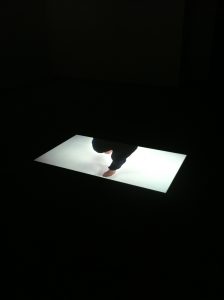 The workshop aims to test the formal structure of a conference. Its primary aim is to initiate an informal dialogue between participants, and the audience. In doing so, it aims to provide a platform to explore, and reveal new knowledge, regarding experiences of mental health and well-being.
Each participant will be given 20 minutes to contribute to the workshop, and are invited to provide, yet are not limited to, presentations, artistic interventions, readings, performances and screenings.
Chair: Dr Deborah Robinson – Associate Professor (Reader) in Contemporary Art Practice, Plymouth University.
Karen Brett – Senior Lecturer in Photography, Falmouth University.
Karen Abadie – PhD Student in Fine Art, Plymouth University.