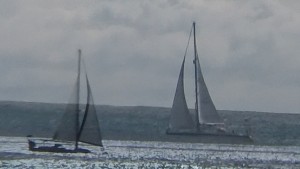 20 August 2016, from 6pm – 8pm
The Methodist Chapel, West Bay, Bridport, DT6 4EN
Screening of artists' film at Force 8, the collective art project founded by Anna Best and Hester Schofield
Each artist whose moving image work is included in this programme engages directly with the sea to represent their experience through a range of strategies, from the camera as witness, observing and recording natural phenomena and human activities, to working with film as a poetic medium.
Artists include Plymouth University postgraduate students, alumni and researchers Rachael Allain, Laura Hopes, Stuart Moore, Kayla Parker and Sally Waterman.
Bodies of Water was originally curated by Plymouth University researcher Dr Kayla Parker for The Power of the Sea exhibition at the Royal West of England Academy, Bristol.
The films will be introduced by Kayla Parker and Stuart Moore, and there's an opportunity to discuss the programme after the screening.
You can also see drawings created by Bodies of Water artist, Peter Matthews, in the Sea Swim: Head Above Water exhibition, Peninsula Arts Gallery, Plymouth, from 23 July > 3 September 2016.