A new book entitled British Women of the Eastern Front, by Dr Angela Smith, explores the experiences of British women who worked on the Eastern Front in Serbia and Russia during the First World War. Angela is Associate Professor (Reader) in English at Plymouth University.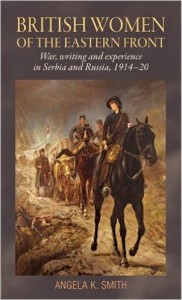 The book tracks the adventures of women from the early days of 1914 through the big events of the war in the East, the fall of Serbia, the Russian Revolution and the final push, to their role in reconstruction following the Armistice. This is the first time the war in the East has been examined through the eyes of British women and as such makes an important contribution to First World War Studies.
Upon the outbreak of the War in 1914, rejected by the British military, surprising numbers of British women went to work for the allied armies in the East. Some of their names have become familiar.
Women such as Dr Elsie Inglis with her Scottish Women's Hospitals Units, born of the Women's Suffrage movement; Mabel St Clair Stobart, a pioneer and individualist determined to prove that women too deserved full citizenship; Flora Sandes the only British woman to see active military service and Florence Farmborough whose detailed diaries of life in wartime Russia are second to none.
These women and their writings are examined through the multiple lenses of gender, nationality, patriotism, imperialism and legacy, but are studied alongside the individual stories of many others drawn from diaries, letters, memoirs and journalism. Together these shape the extraordinary role played by British women in the East and their subsequent legacy.