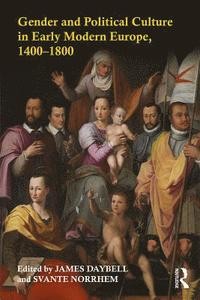 Plymouth University researcher Professor James Daybell's new book Gender and Political Culture in Early Modern Europe (edited with Professor Svante Norrhem, Lund University, Sweden) was recently published by Routledge.
The volume investigates the gendered nature of political culture across early modern Europe by exploring the relationship between gender, power, and political authority and influence, and offers a rethinking of what constituted 'politics' and a reconsideration of how men and women operated as part of political culture. It demonstrates how underlying structures could enable or constrain political action, and how political power and influence could be exercised through social and cultural practices.
The book is divided into four parts – diplomacy, gifts and the politics of exchange; socio-economic structures; gendered politics at court; and voting and political representations – each of which looks at a series of interrelated themes exploring the ways in which political culture is inflected by questions of gender.
In addition to examples drawn from across Europe, including Austria, the Dutch Republic, the Italian States and Scandinavia, the volume also takes a transnational comparative approach, crossing national borders, while the concluding chapter, by Merry Wiesner-Hanks, offers a global perspective on the field and encourages comparative analysis both chronologically and geographically.