PUNCS (Plymouth University Nineteenth Century Studies) invites proposals for 20-minute papers for a proposed international, interdisciplinary conference on 22nd and 23rd June 2017 at Plymouth University (UK) on the general theme of union and disunion.
In him all union and disunion shine

'Prologue', Thomas Holcroft, The Deserted Daughter (1806)

Among the rare phenomena of the day in which we live, are the strange unions that are formed in our country. We have political unions, trades' unions, Protestant unions, and, last and not least, the voluntary unions.

'Union of Papists and Dissenters to Achieve the Disunion of Church and State', Fraser's Magazine, May 1836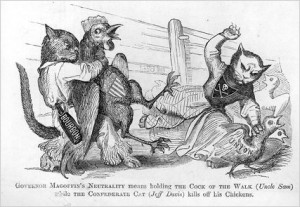 The first international conference hosted by PUNCS began on the day of the BREXIT vote, and commentators have seen this event in the context of other signs of anti-globalisation, and in a landscape of violent disintegrations or forcible integrations in the 21st century.
We are interested in papers by scholars working in British, continental European, American and world history in the Nineteenth century, in literary studies, history, legal history, art history, economic history, geography and other disciplines.
Possible themes for exploring union in individual papers or panels include:
Union as a concept in the natural or human sciences
Acts of union (legal incorporation into nation states through treaties and legislation, or forcible unification; or municipal level unification, as in the union of the Three Towns in Plymouth in the early-twentieth century)
Economic unions (e.g., Zollverein and imperial unions)
Trade unions
Political unions (e.g., the political unions of the reform era in Britain in the 1820s), or women's suffragist organisations
Organisations for social policy and welfare such as Poor Law Unions
Unions and disunions in religion, e.g., the creation or breakup of denominational unity, the forging of ecumenical bodies.
Unions in terms of family, personal and sexual relationships in works of literary fiction or dramatic representation
Union as a topic in artistic, architectural and other aesthetic discourses
Fear of disunion and acts of civil war
Please send your 300 word abstract and a brief c.v. to one of the organisers listed below. The deadline is 28 November 2016. We hope to edit a selection of papers for publication after the conference.
Dr Annika Bautz: annika.bautz@plymouth.ac.uk
Dr James Gregory: james.r.gregory@plymouth.ac.uk
Dr Daniel Grey: daniel.grey@plymouth.ac.uk
Professor Kim Stevenson: kim.stevenson@plymouth.ac.uk