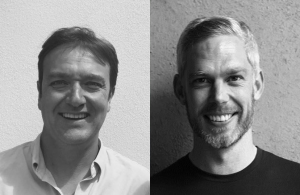 What links zebras to the Second World War? What connects partying to mental illness in Victorian Britain? What ties the bed to the expansion of the British Empire? What's the history of hair? Toilets? Oranges? Zombies? Paperclips? Erm, flatulence?
Well, they are all topics that have been explored by Professor James Daybell and Dr Sam Willis in their Histories of the Unexpected podcast series, which has rapidly gained a national following since its launch in September.
Backed by Dan Snow's History Hit Network, the series of 20—40 minute shows, recorded as a conversation between the two friends and colleagues, were among the top 15 most downloaded podcasts on iTunes at launch, and have regularly been inside the top 40 since.
"People may think there's nothing unexpected about the past, or about history," says James, Professor of Early Modern English History, and Director of the Arts Institute at the University. "But this series adopts a new approach to exploring our past arguing that, in fact, everything has a history – it is just about unpicking it. It's cultural history meets comparative history, a fusion of object biography let us say with a form of history that requires you to make connections temporally and geographically."
It was Sam, an Honorary Research Fellow in the Faculty of Arts and Humanities, and an award-winning BBC TV presenter, who first came up with the idea of a history podcast, and in conversation with James, the concept of a series of alternative histories began to take shape. Very quickly they had brainstormed a list of 150 potential topics that covered everything from objects and animals to themes and phrases.
Sam said: "To give an example of how these topics arise, we were talking about the Olympics and we began to consider where the phrase 'blood, sweat and tears' had come from. What does it represent? So we've focused a podcast on each one of those three."
"We pick four topics and then we go off to research them on our own," adds James, "We don't tell each other what we're doing so when it comes to recording the programme, there is a genuine sense of mystery about what is going to happen. We introduce the topic via a free-wheeling conversation around how you might think about an unexpected history. Usually we have prepared two or three case studies, but the rest is improvisation and seeing where the story goes."
Having experimented with various locations, the duo now record their podcasts in a sound-proof studio using professional equipment used by Sam in his previous television work – including programmes such as Operation Grand Canyon, Shipwrecks: Britain's Sunken History, Castles and The Silk Road. It's an intensive process in which they shut themselves away from family to do four or five episodes back-to-back, each in a single take.
"One of the most memorable podcasts was on the history of the box," recalls James. "I'd had a student come up to me with this velvet covered box that had been found on a skip, and inside there were 500 letters dating back to World War II, which transformed it into an archive."
"I then showed James a picture that I had found of someone lying in a box, holding a rope attached to a bell" adds Sam. "It was a safety coffin, something that  came into existence during the 18th Century, and it's fair to say that the conversation took a left-field turn at that point."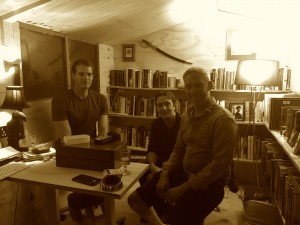 The pair have recorded more than 40 podcasts now, and a total of 52 weekly shows have been scheduled, with a history intern from the University providing technical support in addition to the professional production team at the History Hit Network.
They have also attracted advertising in the form of BMW, Sky Atlantic as well as cinema releases. They were one of the banner headlines on iTunes shortly after launch, an editor's choice, and new and notable on iTunes USA. Each episode is currently averaging over 10,000 downloads, and they achieved over 100,000 downloads in their first 6 weeks. They have also been invited to do a live podcast at the Chalke Valley History Festival in the summer.
"We believe this is the way to get history to give you a buzz of excitement as you come to realise how everything links together in unexpected ways," Sam says. "Take the orange: we do not want to teach you who was the first to discover it, or grow it, or import it. And we're less interested in the first person to make orange juice. But we want to tell you how it was used to make secret ink and was instrumental in the Gunpowder Plot, and how it is actually linked to dogs, the invention of clinical trials and modern medicine."
But does this success – and the success of Dan Snow's other programmes – signal the curtain call for traditional modes of history, via television and radio?
"No, I certainly don't think so – Sam's success is a prime indication of the enduring popularity of that presenter-led tradition of history programmes on television," adds James. "This is about engaging new audiences, and being at the forefront of new digital channels. Studying history at university is more than ever about thinking of opportunities to share your knowledge and enthusiasm for a particular subject, and the possibilities for doing that are almost endless."
The Histories of the Unexpected podcasts are available to download for free.
Senior Media and Communications Officer, Plymouth University