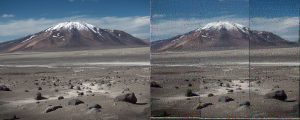 On January 19th 2018, Benjamin Pothier, a PhD Candidate in the Planetary Collegium programme, successfully sent to the Moon and back a photograph he took of the Mars Curiosity Rover test site in the Atacama Desert. The photo was sent as radio waves from Dwingeloo Radiotelescope.
The team used a formerly classified Cold War radio technique to send the image to the Moon and back. The technique was developed for creative purpose by the artist Daniela De Paulis in collaboration with the Radio Operator at Dwingeloo Radiotelescope.
The project was initiated by Daniela de Paulis with the support of ASTRON and CAMRAS radio operators. The project was made possible with support from a University of Plymouth ADA PGR Fund Grant and the French VR Studio HERVE.io.