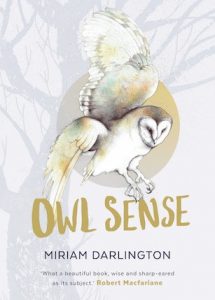 Join Dr Miriam Darlington, a Lecturer in Creative Writing at the University, on Thursday 22 March for her talk and book launch of Owl Sense. Published by Faber & Faber on 8 February, this beautiful book charts the author's travels from her home in Devon to the Hebrides, as she searches the British Isles and extends her study across Europe, from Spain to Finland, to locate the continent's different species of owl.
Owl Sense is a book about the wild in nature and in the unpredictable course of our human lives. In her watching and deep listening to owls in the natural world, Darlington cleaves myth from reality and brings the strangeness and magnificence of these creatures to life.
Into this narrative Dr Darlington weaves owl facts, and the history of human-owl interaction over thousands of years. An intensely personal element includes her teenage son's journey from the early symptoms of illness to a diagnosis of non-epileptic seizure disorder, via a poignant series of crises and periods of uncertainty for the family.
Owl Sense was also selected as a BBC Radio 4 Book of the Week, and was broadcast from the 12 – 16 February, 09:45 -10:00.
The talk will be followed by a wine reception.
Date: Thursday 22 March
Time: 18:30
Venue: Jill Craigie Cinema, Roland Levinsky Building
Free admission, booking is essential. Book your place via the link on the University Events Calendar listing.