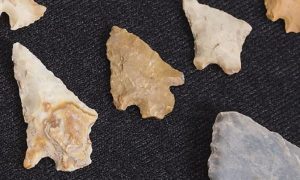 4th Mayflower lecture
In search of the ancestors: Native American presences in British museums
Wednesday 14 November | 18.00-20.30 | Sherwell Centre
Jack Davy is a Senior Research Associate at the University of East Anglia on the AHRC funded project "Beyond the Spectacle: Native American presences in Britain". He has a PhD in anthropology from UCL, studying Indigenous miniaturisation as a tool for colonial communication and resistance, and has previously worked as a curator at the Horniman Museum and the Collection Manager for North America at the British Museum.
In this lecture, Jack covers the history of Native American objects in museums, and the history of Native Americans coming to Britain in search of those objects. He explores the thematic idea that museums (even today) are essentially European institutions using Indigenous objects as props without caring about (sometimes actively disrupting) Indigenous purposes, and how Native visitors are coming to museums to use the objects in fundamentally different ways, and museums are usually not able to cope with this kind of interaction.
Registration for this event will open at 18:00 for 18:30 start. The event will finish with refreshments at 20:00. Please book via the web link below.
www.plymouth.ac.uk/whats-on/in-search-of-the-ancestors-native-american-presences-in-british-museums