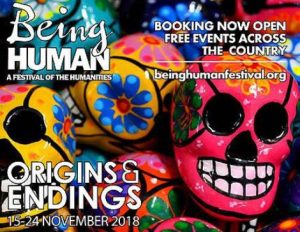 We are delighted to be taking part in the Being Human Festival 2018.
This is a national festival that promotes public engagement with humanities research.
The festival features hundreds of activities across the UK, highlighting the ways in which humanities can inspire and enrich our everyday lives, exploring big questions, debates and innovative ideas focused around the theme of 'Origins and Endings'.
Being Human is led by the School of Advanced Study, the University of London, in partnership with the Arts & Humanities Research Council and the British Academy.
The following events will be held at the University:
Monday 19 November – Talk: First Contact: Imagining Aliens and Strangers with Dr David Sergeant
Monday 19 November – Film: Arrival (2016)
Saturday 24 November – Film: Imperfect Orchestra – Metamorphosis