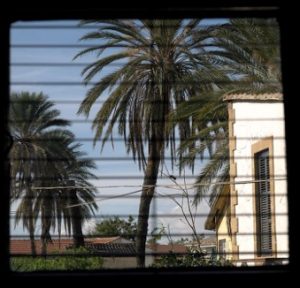 Image credit: Kayla Parker and Stuart Moore, Father-land, 2018. Film Still.
When stepping out of our comfort zones, creative and critical 'outside the box' thinking can thrive with a freedom seldom found in the everyday university context.
Artist residencies create 'field study' opportunities for exploring and offering insights into characteristics of places. This event focuses on outcomes from a partnership with Nicosia Municipal Arts Centre, Cyprus, and on arts practice-research as a means of investigating and questioning histories and narratives located beyond that which is immediately visible.
Speakers: Carole Baker, Christopher Cook, Stuart Moore and Kayla Parker, Simon Standing, Liz Wells.
This event will also showcase the 'Layers of Visibility' exhibition, curated by Liz Wells and Yiannis Toumazis, Director of NiMAC, that took place in October 2018 in Cyprus. The exhibition will be available for touring in the UK from Spring 2019 onwards.
Gain a new insight into Arts research and an understanding of how you can revolutionise your own research process.
Date: Tuesday 22 January 2019
Time: 14:00 – 16:30
Venue: Jill Craigie Cinema, Roland Levinsky Building, University of Plymouth
Further details: https://www.plymouth.ac.uk/whats-on/research-festival-layers-of-visibility
Book a place at: https://www.surveymonkey.co.uk/r/LayersOfVisibility
This event will be of interest to researchers across disciplines who may seek new collaborations. It may also be suitable for those with an interest in Conflict Studies, post-colonial studies, or municipal re-development or place-making.