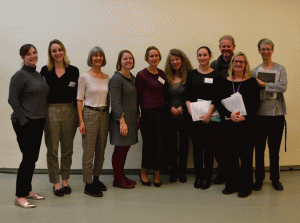 Plymouth University
As 12th largest research School of Psychology in the UK, the school has attracted over £7.2m in research funding since 2008, with 85% of research rated at international standard.
Plymouth University's Cognition Institute is an exciting new venture that brings together researchers from a broad range of disciplines. With leading researchers in experimental psychology, cognitive science, cognitive robotics, computational modelling, biology, cognitive and social neuroscience, bio-medicine, the humanities, brain imaging and the creative arts, the Cognition Institute is rapidly becoming a leading centre for trans-disciplinary research into human cognition.​
The Cognition Institute is involved in many ground-breaking research projects involving partners from across the world and houses a new multi-million € doctoral training programme, CogNovo, which fosters research training in the emerging field of Cognitive Innovation.
Trinity Laban Conservatoire of Music & Dance
As the UK's only conservatoire of music and contemporary dance, Trinity Laban represents unequalled expertise in contemporary dance, with one of the largest teams of specialist dance artist teachers in the world, working from world class facilities.
The Faculty of Dance is one of Europe's leading centres for the training of professional contemporary dance artists.  Trinity Laban is a creative and cosmopolitan community of performers, choreographers, teachers, designers and researchers, and is acknowledged internationally as a leader in the contemporary arts. Innovative and ground-breaking education combines with community and social inclusion work to make Trinity Laban a leader in the advancement of creative artistic practice.
In 2011 Trinity Laban Conservatoire of Music and Dance established a partnership with Wayne McGregor|Random Dance R-Research Department to investigate the creative process within dance, and a number of experimental pilot studies have already taken place.
Coventry University, Centre for Dance Research
The Centre for Dance Research (C-DaRE) is situated within Coventry School of Art and Design, and brings together scholars and artists to work collaboratively within the creative and cultural industries for knowledge advancement and interdisciplinary research.
The centre specialises in an inclusive approach to diverse forms of artistic research in dance supported by new approaches to documentation, analysis and augmentation of choreographic creativity. Interested in dialogues across live and digital dance, and the embodied knowledge of the dance artist, research at C-DaRE is situated within a range of interrelated fields including: reflexive enquiry into forms of somatic practice; research into digital archiving and publication of live performance with a focus on dance, and the development of alternative sites for performance including screen and site-responsive dance.
Projects are funded by the AHRC, JISC, Leverhulme Trust, Arts Council England, Culture 2007, HEA, the Cultural Olympiad and FP7. C-DaRE also hosts national and international dance conferences, symposia and training programmes. There is a regular programme of research led events which can be found on the C-DaRE events page.