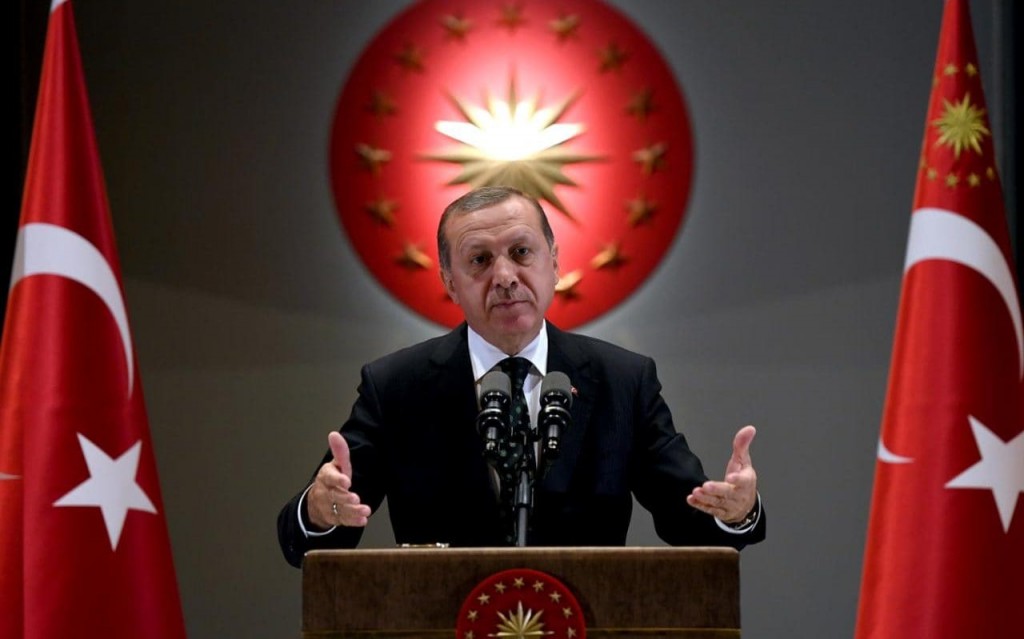 Sourced : Al Monitor
By Semih Idiz
Turkey's deepening crisis with Europe has re-energized its desire to expand ties with Russia. Ankara clearly wants to show that it has powerful friends that can reduce its dependence on the United States and Europe. This also works to Moscow's advantage, given its problems with the West and barely concealed desire to undermine NATO.
President Recep Tayyip Erdogan's visit to Moscow last week came at an opportune moment for Ankara in this regard. Erdogan and Russian President Vladimir Putin held talks within the context of the High-Level Cooperation Council established between the two countries in 2010, which was meeting for the sixth time.
Following their talks, Erdogan and Putin stressed their joint desire to attain and surpass the levels of economic cooperation that existed between the two countries before the downing of a Russian fighter jet by Turkey in November 2015 that sent economic and political ties plummeting overnight.
This was also the fourth time the two leaders had met since Erdogan apologized last summer for the jet incident, following which both sides agreed to let bygones be bygones.
The documents signed during Erdogan's visit covered a three-year economic, scientific, technical and cultural cooperation program. There was also talk about increasing cooperation in the strategic field of energy, including speeding up the nuclear power plant project in Akkuyu, Turkey, contracted to the Russian company Rosatom.
In addition to this, increased cooperation in the military field was discussed, leading to rumors about the purchase of Russian S-400 long-range missile defense systems by Turkey. Given Turkey's continuing NATO membership, though, many believe this is not possible.
This, however, did not deter Erdogan from fueling the speculation. Flying back from Moscow, he told reporters that Turkey had not lost its independence because of NATO membership, and he stressed that if it could not secure these systems from the West, it had to seek them elsewhere.
"We saw what happened in Syria. Unfortunately, we saw weapons from our NATO allies in the hands of terrorists. … Of course we will take our precautions because of this," Erdogan said, referring to Turkey's need for a missile defense system.
Erdogan's words inadvertently underlined, however, differences between Turkey and Russia over Syria. Al-Monitor's Maxim A. Suchkov has pointed out that "if delivered, S-400 systems could potentially limit Moscow's own maneuvers in Syria and those of Syrian President Bashar al-Assad's air forces — something Russia should and does take into consideration for the long run."
Erdogan's remark about NATO weapons going to terrorists in Syria, on the other hand, refers to the backing the US-led coalition against the Islamic State (IS) is providing for the People's Protection Units (YPG), which Turkey insists is a Kurdish terrorist group linked to the outlawed Kurdistan Workers Party (PKK).
Erdogan has a serious dilemma. Russia does not accept the YPG or its mother organization, the Democratic Union Party (PYD), to be terrorist organizations either, and allows a PYD representation in Moscow.
Russia's refusal, unlike the United States and much of Europe, to declare the PKK a terrorist organization compounds the dilemma. Erdogan brought up the matter diplomatically during the opening session of the High-Level Cooperation Council in Moscow.
"As for the activity of Syrian groups affiliated with the PKK terrorist organization, such as the PYD and YPG, I believe it is necessary to completely put an end to their activity in Russia," he said.
He also brought up another highly touchy topic and mentioned Ankara's desire to see Russia restrict the activities of groups associated with Fethullah Gulen, the Islamic preacher accused of masterminding the failed coup attempt in Turkey in July 2016.
The fact remains, however, that while he blasts the United States and Europe liberally for supporting the PYD and the YPG, Erdogan is largely silent over Russia's open support for the same groups. Despite the "Astana process" where the two countries, together with Iran, are sponsoring talks with a view to expediting the end of the Syrian crisis, Syria remains a problem area in Turkish-Russian ties.
This was also made apparent when Russia stopped the advance of Turkey's Operation Euphrates Shield in northern Syria, especially toward the town of Manbij (Ankara wanted to dislodge the YPG elements there).
Using its influence with the PYD, Moscow convinced the YPG to transfer territory south of the town to regime forces. Murat Yetkin, the editor-in-chief of Hurriyet Daily News, says Moscow made this move "in order not to let the Kurdish card in Syria fall into American hands."
The Russian move also highlighted how Turkey is only able to forge on in Syria according to Moscow's — not to mention Washington's — desires, and in doing so is forced to come to terms with the unsavory possibility of cooperating with Assad.
Having vilified Assad for years, Erdogan supporters are coming around to accepting now that Assad may be the lesser of two evils when compared with the PYD and the YPG. Ibrahim Karagul, the editor-in-chief of the pro-government daily Yeni Safak, for example, argues that regime control is preferable to PYD control in Syria. "Maybe some will be angry with me for saying so, but if necessary we have to sit at the table with Damascus," Karagul wrote in his column.
Suchkov, however, echoes Yetkin's argument and cites Russian sources who maintain that dumping the Kurds would be counterintuitive for Moscow. "If Moscow abandons the Kurds now, it will reinforce America's position. They [the United States] have already secured some of northwest Syria with their own military infrastructure. It will also allow Turkey to seize further control of the Syrian territory," according to Suchkov's source.
Moscow's playing host to a Kurdish conference last month — which was also attended by the PYD — and Russia's draft constitution for Syria, which proposes a secular system and includes the possibility of Kurdish autonomy, have also been met with displeasure in Ankara.
Aware that both Russia and the United States are keen to have some form of political representation for the Kurds, Ankara is bracing itself for the new round of Syria negotiations in Geneva on March 23. One of the main topics discussed there will reportedly be the new Syrian Constitution.
Columnist Nuray Mert points to another problem area between Ankara and Moscow. "The other issue that complicates the Turkey-Russia alliance is Turkey's desire to revive the Sunni alliance against Iran and to contribute to Donald Trump's new Mideast efforts to reconcile Israel and Sunni countries against 'the Iranian threat,'" Mert argues.
Even Ankara's current crisis with the Netherlands demonstrates the limits of Turkey's reliance on Russia. Maintaining that international law is on its side, Ankara had hoped for Moscow's backing in this crisis. It was disappointed, though, when Putin's spokesman called on both sides to show restraint.
Turkey's EU Minister Omer Celik criticized NATO Secretary-General Jens Stoltenberg after he made a similar call. "Asking us to reduce the tension is not enough. They should establish the reasons behind this tension and do what is necessary," Celik said.
For the moment, Ankara and Moscow are not prepared to let differences, no matter how serious these may ultimately be, cloud the positive atmosphere they are projecting regarding their ties. This does not mean that the thorns in the side of their relationship will not result in new bruises that go on to fester.