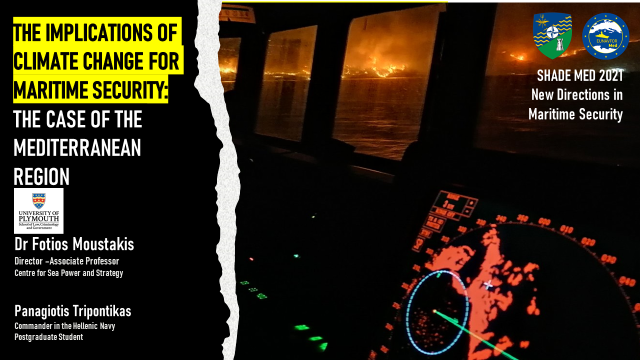 The University of Plymouth through the Centre for Sea Power and Strategy (CSS) was the only British academic institution which was invited to participate for the first time in the "Shared Awareness and De-confliction for the Mediterranean Sea" (SHADE MED) https://www.operationirini.eu/event/shade-med-2021/   Conference which took place in Rome  between the 7-8 October.
SHADE MED is a forum (part of the EU initiatives) where representatives/Stakeholders from different nations and organizations interested in the Mediterranean area can meet to discuss mutual areas of interest.
SHADE MED aims at de-conflicting and where possible better coordinating military and civilian resources, military & civilian operations and industry practices to achieve the maximum efficiency and effectiveness in managing objectives related to the security and stability in the Mediterranean.
The conference represented a unique opportunity for meeting, exchanging information and experiences and sharing proposals for different organizations, ranging from Governments and Armed Forces/Coastguards of the coastal states of the Mediterranean, International Institutions such as the United Nations and the European Union and Non-Governmental entities.
The CSS through Dr Fotios Moustakis and Commander Panagiotis Tripontikas, MA student in Applied Strategy and International Security, led the discussion on climate security and the impact of climate on the Mediterranean region as well as on shipping and navies.
In addition, Commander Panagiotis Tripontikas and Dr Fotios Moustakis made two presentations on  how climate change is going to impact Mediterranean security and what are the implications for NATO's  and EU's roles and missions.
It is the first time that the CSS was invited to such a high-level NATO-EU conference and led a working group of more than 50 political and military leaders from EU, UN, NATO, Frontex, as well as NGOs on the impact of climate change in the Mediterranean region.