Building interactive content using different types of technologies for online learning is essential as it increases the effectiveness, engagement, and motivation of the students as it provides the opportunity to create active learning opportunities, rather than just passively listening to new information. In addition, it also enhances the teaching and assessment materials with embedded achievable learning objectives. These content types can be, for example, text, images, audio, multimedia, or a combination of them. It can also encourage social interaction and supports student communication skills as during this type of activity, the users can collaborate with each other.
"According to Yung-Ming (2013), factors influencing the perception of interaction experienced by users are mainly about controlling the content, the sequence of communication, the speed and the consistency of the responses they receive, and the personalization of the feedback on their questions and actions."

Theodosis Karageorgakis
So what would be the best tool to use for building interactive content?
As there is a wide range of tools that can be used for this purpose, we would recommend choosing the one that would be the closest to your preferences and expectations.
Of these technologies, we would like to highlight H5P as it is supported by the Digital Learning Environment (DLE) of the University of Plymouth and it is a commonly used tool amongst educators due to its ease of use and speed of rich, engaging, and accessible content creation.
It is also a mobile-friendly tool, therefore, students can use different devices to view the content and complete the tasks you have created for them. This is also an essential condition of online learning as one of its key objectives is to be able to 'learn anytime and anywhere'.
What is H5P?
H5P is a powerful, user-friendly authoring tool in our Moodle VLE which staff can use to create, edit, store, reuse, and share interactive and responsive content as resources or activities within your online teaching spaces. In addition to the rich and engaging content types, it also supports gamification due to the game mechanism that is integrated into the tool which makes it even more appealing for the students and which is another essential condition of online education as you can build in video-game design principles into your curriculum.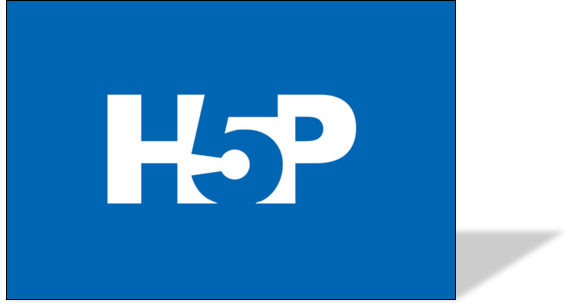 Some other additional benefits of this tool could be, for example:
The continuous development and improvement by an active community built from developers and educators who share their experiences, so that more effective content types and examples can be shared with the H5P users.
Thanks to the functionality in Moodle, most of the content types are trackable, and formative grade engagement can be used.
Securely stored data in Moodle
A wide range of various content types available.
What do the studies say?
Based on the recent studies and case studies, currently, 25,426 institutions use H5P as part of their Moodle website which has significantly changed since 2016.
Another study highlighted the importance of interactive content usage in online education. They have found that within Higher Education (HE), the more interactive content types have increased student performance. More information about the study can be found here.
In 2015, the University of Texas created a review of how gamification affects the student learning experience, specifically engagement and motivation. They found it extremely useful, as building effective content requires a depth-knowledge of the game mechanism. More information about the study can be found here.
In another interesting project, Dr. Allison Mandrusiak from the University of Queensland used H5P for her physiotherapy course where students needed to learn cardio-respiratory techniques, such as breathing exercises or specialised equipment. As she has stated,
"H5P has helped to address two main challenges. Firstly when we moved to a hybrid model with students, off campus, learning online, I had to swiftly find ways to re-create the in-person practical experience, and for those who could attend on-campus practicals, in-line with COVID safe protocols, we had less face-to-face time, so I set out to maximise student preparation in order to optimise our in-person time."
She also stated that after she attended a training session about H5P, it was very easy for her to use the tool and create activities during the semester. As she said:
"I was able to bring to life the online learning experience […] these H5P creations were really well received by students with lots of positive feedback; and this translated into enhanced readiness for practicals and performance outcomes."
What do our staff say?
We also asked some of our Designers, to see what they think about the usage and benefits of H5P.
For example, we asked them about the key benefits of using H5P for the academic staff. Mark Lyndon, the Team Manager of Digital Education stated the following reply:
As an activity integrated directly into Moodle, H5P allows staff to build interactive content with ease. Often, it's tempting to upload static content to Moodle, but learners can struggle to engage and motivate themselves to learn with these resources. H5P's array of content types allows tutors to create highly creative, interactive, and interesting learning resources which can be much more engaging and useful for learners. For instance, posing questions throughout a learning resource is a simple way to keep learners focused, tests knowledge, and provides an awareness that they are understanding the subject or otherwise.

Mark Lyndon, Team Manager – Digital Education
As Flea Palmer, an E-Learning Designer within Academic Partnerships stated, there are available templates within H5P that can be also used for creating new content types.
H5P tools enable staff to create more engaging interactive activities for students without having technical expertise. Templates can easily be configured to facilitate a range of interactivity.

Flea Palmer, E-Learning Designer – Academic Partnerships
We also asked them about the H5P benefits in terms of the student learning experience.
In addition to the importance of interactive learning which would increase the student engagement and motivation and which would prevent the bulk of resources in a simple text form or watching videos as Mark highlighted, Flea stated that H5P objects could be also used as breaks between the other learning materials.
Activities are interactive, so can provide welcome breaks from just reading or watching videos. Learning is supposed to be more effective when delivered in short chunks (there will be a reference to this somewhere!)

Flea Palmer, E-Learning Designer – Academic Partnerships
Lastly, we asked them which is their favorite H5P content type and which they would recommend the most.
Mark highlighted two content types, the 'Course Presentation' and the 'Flashcards'.
Probably not my absolute favourite, but the most simple and effective must be course presentation. Course presentation is a simple content type to simulate PowerPoint presentations in the web browser with added benefits. PowerPoint presentation files offer little in terms of learner engagement, plus they typically need to be downloaded and loaded into the PowerPoint application to view them by learners. The H5P course presentation content type allows tutors to create linear (PowerPoint-like) learning objects, but allows creators to add videos, questions, and other media – all the while working directly within the web browser making it simpler and more engaging for learners. Also check out the Flashcards content type, I have also seen this being used effectively by tutors.

Mark Lyndon, Team Manager Digital Education
While Flea mentioned the 'Accordions' and the 'Interactive Video' content types for the following reason:
I've only used the accordian – fab for presenting a mix of text and video… and the interactive video. We used this for our Induction presentation – https://open.plymouth.ac.uk/mod/lesson/view.php?id=7686&pageid=753 if you need an example, although it is 20 mins long! This is the reason I used it though – there was a lot of information to get through so I broke it up by inserting questions.

Flea Palmer, E-Learning Designer – Academic Partnerships
What content types could be created with H5P?
H5P aims to build a community of H5P creators worldwide, who can then create, use and share H5P content types with each other. They would also like these content types to be implemented and delivered within different systems, such as our DLE, in the easiest and the most effective way.
There are currently 52 different content types available within H5P. The development and releasing dates of these content types can be traced back to 2015.
For example, you might want to create a 'Course presentation' H5P object which is a very popular choice among educators as it can be used for displaying content that consists of slides, just like a Microsoft PowerPoint presentation. However, in these slides, you could also add multimedia, images, text, hyperlinks, and many different types of interactions for your students, such as multiple-choice questions, interactive videos, or flashcards.
Another great example could be the 'Interactive video' H5P object as it can be used for creating engaging videos where the students are required to interact with the content, including, but not limited to answering adaptive quiz questions, viewing extra images, or reading pop-up texts that are added as informational resources.
You might also want to think about building a 'Virtual Tour' H5P object which then can be used for displaying single or multiple 360 environments if you would like the students to explore and learn within a more realistic digital environment. You can add to this content type, for example, texts, questions, images, audio, multimedia, and many more.
In addition, you could also use, for example:
'Timeline' to place a sequence of events in chronological order;
'Branching Scenario' where more choices can be chosen within a situation that would lead to different scenarios and outcomes;
'Image Juxtaposition' to compare two different stages of a story, such as before/after processes;
'Interactive Book' to create engaging books that stand from multiple pages where informational content can be displayed with optional interactive tasks;
'Documentation tool' to create workbooks which could include plain text, input fields (such as 'Essays'), goal definitions, and goal assessments (ratings);
You can also vote for your favorite content type and ask for additional features to be added to it which then would be reviewed by the company. For example, one of the most popular requests is to implement Microsoft PowerPoint presentations into the H5P 'Course Presentation'. The full list of these votes can be accessed here.
You can also contribute to its development process, for example, you could:
Suggest changes related to the available content types.
Provide additional codes for the company if you are a developer which then would help improve the quality of the tool.
Create new examples for the available content types, or
Translate the content types so that more languages would be supported within the tool.
More information about contribution opportunities can be found here.
Summary
Based on our review, H5P is a great opportunity to build rich, interactive, accessible, and shareable content for your students which then would increase their engagement and motivation – as a result, it would increase the student performance.
In addition, with H5P, thanks to gamification and other implemented features, such as the responsivity, you would be able to provide a self-paced learning experience for your students as they would be able to learn anytime and anywhere with their own learning speed and style which would then result into higher student engagement and performance.
For more information about H5P, including the supporting materials, please visit our website.
Lastly, we would like to close our article with the following inspiring quote:
"If you want to teach people a new way of thinking, don't bother trying to teach them. Instead, give them a tool, the use of which will lead to new ways of thinking."

R. Buckminster Fuller