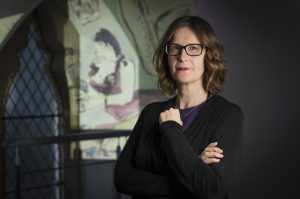 Fiona Saint-Davis, a student on the ResM Art History programme at the University of Plymouth, has won the coveted national 'Undergraduate Dissertation Prize' offered by the Association of Art Historians, the body which represents the discipline in the UK. Against the stiffest competition, with submissions from the largest Art History departments in the country, Fiona prevailed, capturing the judges' attention with her thesis on a series of ink and brush sketches on the theme of prostitution which Émile Bernard sent to Vincent van Gogh in 1888.
Bernard's drawings of brothels, described by the artist as 'Stupid Sketches' were, she argued, highly topical. Contextualising the images within a censorship scandal unfolding at the time on the visual representation of prostitution, Fiona highlighted Bernard's address to the social, cultural and political discourses of sexuality and morality in late 19th-century France. As she writes: 'Far from being a relatively inconsequential project demonstrating personal sexual confusion, the context of the drawings' production suggests a sophisticated level of engagement with a debate that exposed patriarchal repression at the heart of the French Republic.'
Fiona's undergraduate research was supported by a travel bursary from the University of Plymouth, which enabled her to travel to Amsterdam to view the exquisite drawings by Bernard at the Van Gogh Museum, an experience that enriched the dissertation. On graduating with First-Class Honours in September 2017, she received the Ben Hartley prize for the best dissertation of the year; the Association of Art Historians' recognition of the same piece of work is praise indeed. Fiona writes: 'As a mature student at the University of Plymouth, it had seemed achievement enough to complete an Art History degree. Encouraged by my tutor, Gemma Blackshaw, I submitted my dissertation to the annual competition, and am delighted that it won. My heartfelt thanks to Gemma, Jody Patterson and all the lecturers in the Art History department for sharing their wisdom and enthusiasm, without which I would not have achieved this award.'
Fiona is continuing in her research with Gemma on the ResM Art History programme, addressing Van Gogh's written and visual responses to Bernard's project. She will be attending the annual Association of Art Historians conference at the Courtauld Institute of Art, London, in April to receive the prize.